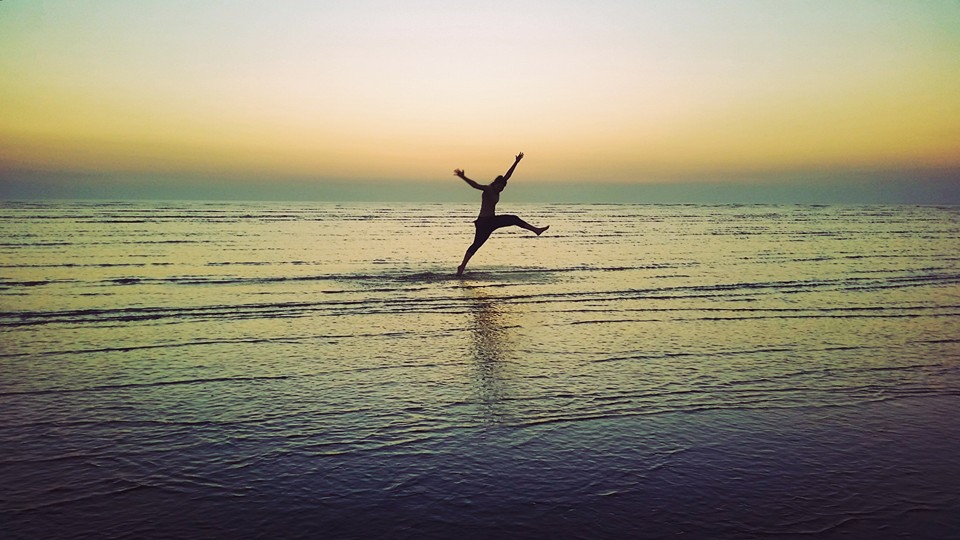 It's 2:14am. I'm awake at this ungodly hour because jetlag has taken me prisoner. A whole 15 hours ago I arrived back on home soil having spent the majority of the past 2 years travelling, volunteering, wwoofing, house-sitting, visiting friends around the world and being a typical backpacking millennial trying to unpack her life and all the drama that comes with making adult life decisions.
But it's not just for any reason I've come home. You see my friend, I truly believe, from the depths of my innards, I'm being called back. 
Have you ever wondered what it feels like to find something you are so deeply passionate about that it sends shivers through your bones at the thought you may just get a crack at making this your life? Maybe you are already living and breathing this example. (Please let me know in the comments below if you are! We need to hear from more people like you.)
This is where I stand now.
An amazing business partner has stepped up and together, we're embarking on what will no doubt be the craziest and most exciting adventure of my life to date.
We're starting a farm together.
REWIND… let's hear the back story.
I stumbled upon the concept of Permaculture some 3-4 years ago. Back then, I was working a corporate office job. Slugging away the 9-5. Banging my head against the cubicle as I made sales call after sales call. Fighting tooth and nail for every measly dollar. And nearly losing every tooth, nail and strand of hair in the process. Trying my hardest to believe in what I was doing, that I was just making a humble, God-honest 'go at life' and 'doing my time' so others higher up on the corporate ladder would take me seriously. But I wasn't even taking my own life seriously. I was treating it like a game. Like it didn't matter. Like what I did had no real mark on this planet or other people's lives. All the while trading in my precious time and my soul for an unfulfilling existence that was turning me into someone I didn't like. No matter what I did, I just couldn't get excited about the prospect of going to work. If it wasn't for that coffee machine…
Every other waking hour that I didn't spent wallowing in self-pity, I spent consuming and digesting podcasts, blogs, books, online courses, you name it, as long as it was on all things green, sustainable, Permaculture, entrepreneurial, food and health related. These were deep interests that naturally found a way into my life at a time when I least expected but needed them most.
Then a thought struck me like a cherub striking her harp. I needed to share this. What I was piecing together and uncovering were little golden nuggets that could change not only the course of our species, but more importantly at that time, MY LIFE. That's what actually mattered most at this time – that I would be willing to change my own life first. Why were more people not talking about this stuff?!
I loved to write, so it only seemed logical that I started writing about this stuff.  With laptop on my lap, I started this blog, The Urban Ecolife. A tale of one girl's journey as an urban hippie sandwiched between two realities; the one she was living out as a city slicker, and the one she so desperately wanted to manifest into her future. It was my gateway drug into a new life.
When I quit my corporate gig at the end of 2013, I had  a sound exit strategy in place and a soft financial padding. I don't want to sound like an ungrateful bitch, because I truly loved the company and the people. This only makes such decisions all the more harder. But I had a goal in mind and when Emily has her mind set to something, she can be a stubborn old mule.  I knew what my intentions were for quitting and heading overseas. The world has a beautiful way of aligning the resources and people to help make these things happen when you get clarity on your purpose.
The proceeding two years manifested in such a way that I could never have imagined and  had I played it 'safe' and stayed ass-glued to that chair in my cubicle, I would have sorely missed out.
What you imagine could be, can actually become your reality if you take action.
It's your duty to make your reality better than the imagined.
That first breath of freedom that came with travel saw to me swearing off into the wind from ever returning to a corporate work place unless it was strictly intentional and in line with my future aspirations. There was no going back. My life was on the line. Now I'm not trying to be all melodramatic here… but then again, I am. Because it's YOUR LIFE too. This is all we get. This is the planet we have been given to work with. What are you doing to make it worth the while?
Then Came The Idea…
So this opportunity to start a farm came about mid-2015 while talking with a friend who, go figure, I met through blogging… the illustrious Sarah from Happy, Homemade & Healthy. As far as fairy-tale stories go, ours is far from conventional.
We met online.

We met in person once when I was visiting Sydney for New Years in 2013.

We kept in contact.

We shared our dreams loosely over a few Facebook messages.

And BOOM! The right opportunity came up for us to rent some land (thanks to Sarah's connections) and suddenly we're becoming farmers and business partners.
Welcome to the 21st century of doing business.
Let's Get A Few Things Straight…
I didn't grow up on a farm. I didn't get handed down a property to manage. I didn't have an upbringing on the land.
I grew up in the suburbs of a small town where most people drive pimped up Commodores and spend their Friday nights at the pub potty-mouthing over the footy umpire's foul decision. I didn't know what the difference was between a caged hen and a free range one. So long as I had my cheap instant noodles and Monte Carlo biscuits dipped in low fat milk, I was a happy girl. People didn't travel overseas. Nor did they mingle with others from different walks of life. No one talked about making a difference in the world or pursing your life's calling. A welfare check each week was a perfectly acceptable way to make a living.
And yet, I made a proper go at my life. My parents never pushed me but they were always there to support me and for that, I am eternally grateful. I worked my ass off in high school to get good grades, earning myself a scholarship for university. I worked my way through uni, saving tirelessly so I could afford the luxury to study abroad. I worked internships, I travelled some more, I scored a decent job post-uni, I worked some more, I travelled some more, and so forth. But then… it still wasn't enough. I was so unsatisfied with where my life was heading. None of this was the answer to pursuing my life's work that I was looking for. A sense of purpose in what I would spend endless hours committing my life to.
I don't know about you, but I break into fits of laughter when I see the round-a-bout way life has taken me to where I am now.
To what I've been called home to do. To farm.
To what I've been called home to be. A farmer.
Am I aware that this is going to be hard? HELL YES.
Am I ready? Probably not.
Do I care what people think? No.
Am I scared, nervous, anxious? YES times a bitzillion. I'm throwing my lifeblood into this. But more so than this, I am a bitzillion and one times more excited.
If I wasn't doing this now, I probably would find a way to still do in 1, 2, 5 or 10 years down the track because when you want something so badly, you'll find a way to make it happen. And when this something is totally in line with what the world is screaming out at you to do, then it may just come knocking on your door. The challenge is, you need to be there to open the right door and make the choice to walk through.
What will it take for the next generation of young earth carers to return back to the land?
To make the intentional decision to hand back their corporate cards and trade it in for a life of grit and dirt?
All I grew up hearing were stories about the exodus of older farmers who are being pushed away from their land by drought, falling market prices, overseas competition and unmanageable levels of debt. It breaks my heart to hear these stories but if these are all the stories that we are going to share, what kind of dream does this paint for the next generation who are going to walk in their footsteps?
I know this isn't how it needs to be. I've spent the last 3 years exploring, visiting, listening and interacting with the people who ARE making a go at it. Who ARE making it work. Who ARE stepping up and being the new example of how it can be done better.
And I couldn't be prouder to step into their ranks.
In a weeks time I'm moving interstate to join Sarah in our new home. I'd love to share our journey.
Will you join me by my side on this journey?

PAID ENDORSEMENT DISCLOSURE: In order for me to support my blogging activities, I may receive monetary compensation or other types of remuneration for my endorsement, recommendation, testimonial and/or link to any products or services from this blog. Thank you for your support!