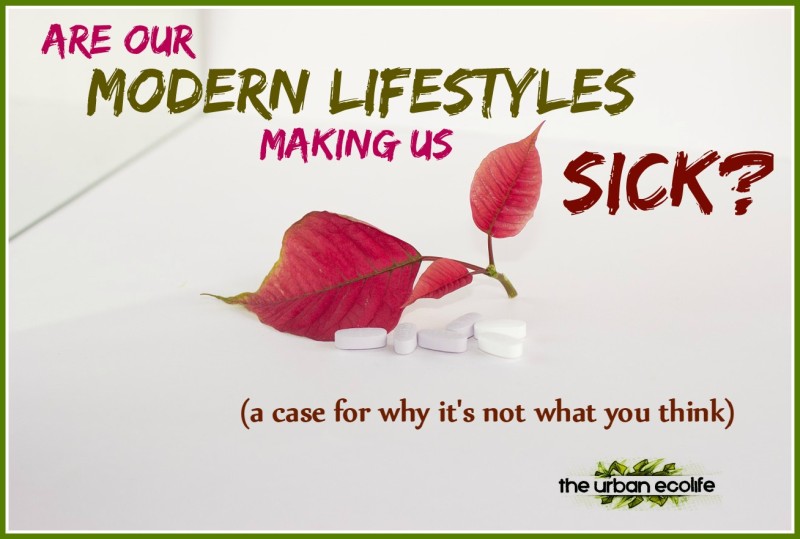 This as a disclosure that I'm not a doctor and you should always consult a doctor for personal medical advice. I wanted to make that clear first as I am going to proceed talking about health and yes, it's a touchy subject. But I'm only sharing my personal experience and a different perspective in hope of giving you some hope.
I have my own opinions about how our busy, stressful, highly-processed and carbon-intensive modern lifestyles are not only causing serious environmental problems, but are also wrecking havoc on our personal health and wellbeing. That's no secret. Why do you think I write about everything that I do?

Some time ago, I reached out to you with the question about one thing you're struggling with right now and an overwhelming number of you responded with personal health issues. 
This doesn't surprise me. 
Many of you probably stumbled upon my blog having caught sight of the odd recipe or two that favors real, whole ingredients, only to discover what I write about goes so much deeper. I believe that we are creatures of nature and we aren't separate from the systems of nature. What we see happening around us; the food crisis, environmental damage on an epic scale, climate change and an overabundance of greenhouse gas emissions is a reflection of a serious imbalance occurring in our own lives.
The further we veer from a natural, whole foods diet and health supporting lifestyle that mimics the patterns of nature, the further we dig ourselves into a hole of irreversible problems; both internal and external. The greater stress we place on the environment, the greater the impact on our own personal survival, health and wellbeing.
Our own health is tightly connected with the health of our planet. 

There's no disconnecting the two. 
I have had my own string of personal health issues over the years and I'll be the first one to put my hand up and admit that my lifestyle choices at the time are probably reflected in many of these. From skin problems, to whacky hormones, gut problems and yeah, that feeling of waking from a sleepless night like you've been beaten over the head with a baseball bat. No fun. I take responsibility for these choices but I can happily say I now don't suffer from them anymore.
I've had the personal privilege connecting with many leading health experts who advocate whole food, organic and sustainably-sourced diets as part of their therapeutic treatment plans. Say what?!! Food as medicine?! Does it get any better?
We have a modern dilemma where lifestyle diseases now account for over 63% of deaths worldwide (source). These are characterized by risk factors such as tobacco use, an unhealthy diet, physical inactivity and the harmful use of alcohol and drugs.
But let's be clear. I'm NOT saying that eating an apple will solve the world's problems.
What I AM saying is that we can take back control of our personal choices to prevent lifestyle diseases in our own lives and that this should coexist alongside making better choices for the environment around us.
Like many of you, it was through my journey to discovering what it means to eat real, whole and organic foods that I started asking the bigger questions in life surrounding sustainable living that I now blog about passionately on this blog. Such as reducing the toxic load on my body by using natural ingredients around the home, in cleaning, skin care and cooking. By growing my own food. Spending more time in nature. Quitting a stressful office job that was causing me heartache and re-straightening my life priorities. 
But health is a complex issue. 
Really crappy sh!t still happens to good people.

I've had some of the people closest to me experience health issues you can't explain-away. Psychological, mental, chronic and autoimmune conditions that no pill can cure.

My father has gone his whole life incorrectly diagnosed for his crippling chronic pain and health woes, only to be diagnosed last year with a rare autoimmune condition, Dercum's Disease. Through the myriad of doctors he's consulted and nearly a lifetime later, with little sign of improvement to his quality of life, only one of them has actually suggested that addressing his diet may help manage his symptoms. Not as a cure, but as a suggestion it may significantly improve his quality of life. 
While I'm certainly not claiming that the elimination of gluten will cure him and save the world, for what otherwise is a very complex issue and where there appears to be no 'cure' (as with many autoimmune conditions), this process of making positive changes in his life for the betterment of him and his surrounding environment has few negative side affects. 
The only sign of relief he's experienced in the last 20+ years have come recently as we've worked together to overhaul his diet, lifestyle habits (stress being critical here!) and dabble in some alternative treatments (alternative being, non-pharmaceutical or medically recognized) that don't leave him bed-ridden for days on end. It's provided the first signs of hope we've experienced in years and that's what we need more of now than ever.
So yes, this topic is very close to my heart. If it wasn't for my undying interest in growing food and ambitions to start my own farm, I probably would have found myself pursing a profession in nutrition. I'm no doctor, but I know the power of leading a healthy, holistic and low-toxic lifestyle. There's two aspects to this:
1. Making positive lifestyle changes to prevent preventable disease (I may be young but does that mean I should forgo responsibility for my health now and hope that an already overburdened health system can take care of me in the future?)
2. Making positive lifestyle changes to manage unpreventable diseases or existing conditions so you can feel like a semi-functional human being.
So when the opportunity came up to share with you this incredible autoimmune wellness bundle, brought together from some of the leading health experts in the field, I couldn't not share it with you. Other than the INSANE value, it has a myriad of resources to help you make positive lifestyle changes.
Because lifestyle incorporates so much more than just what you eat. 
And I don't believe you need to be sick to make positive changes in your lifestyle.
So if you've been struggling with making sustainable lifestyle changes for your health and wellness, click here to find out more about this bundle to see if it could be a good fit for your needs (it's only available until Monday though).
I personally don't want to be remembered as the generation that falls victim to preventable lifestyle diseases and doesn't outlive her parents (I know that's a morbid thought but it's the reality we are facing here!).
I want to be remembered as the generation that takes a proactive stance in reclaiming their health and the health of this planet in the process.

PAID ENDORSEMENT DISCLOSURE: In order for me to support my blogging activities, I may receive monetary compensation or other types of remuneration for my endorsement, recommendation, testimonial and/or link to any products or services from this blog. Thank you for your support!