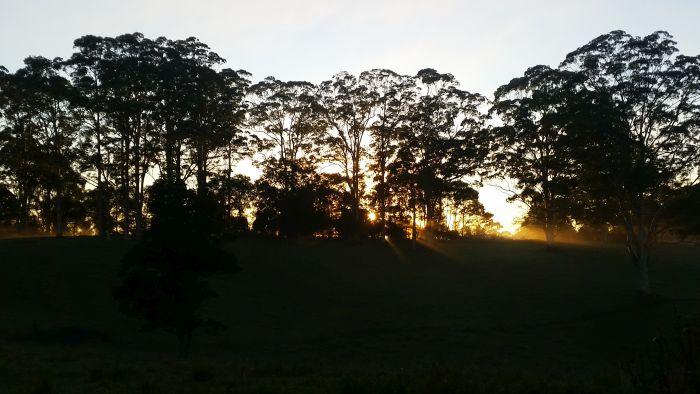 I awake to the gentle sound of a rooster crowing in the distance and the sun rising over the ridge. From my bed I can already see the sky embellishing a wondrous display of purple, pink and orange, blushing sheepishly as though apologetic for stirring me from my peaceful slumber. I peer out the window and envision a day of possibilities. On the rolling pastures the cows graze on fresh dewy blades of green. Happy as cows could possibly be. The morning march to the milking shed fresh in their mind as their utters swell. Two wallabies are alerted from their temporary safe haven underneath the gumtree as they hear me rattle the front door open.
At that sound, I too am startled from my trance. The bubble of excitement bursts as I realize it was all but a dream. The cars are honking, the sky is grey, the drowsy feeling of yet another day at the office lingering on my mind.
Except that today, it's not a dream. That dream has now become my reality.
And I couldn't be happier.
While TV shows like River Cottage and Gourmet Gardener certainly paint a very idealistic picture of home/farmsteading life as I have just done, the reality can be quite startling and unromantically different.
But without these forms of dreamy inspiration, I doubt few would dare tread down the path of farming life. This is where I see a trend. A shift from the sterile corporate chamber to a self-employed, land-based lifestyle. A generation craving connection, meaning and an earth-based education. A growing group of people who have been raised on concrete pasture, confined to cubicle cages and restricted to factory feed of low grade information and poorly produced food – now seeking real nourishment of the mind, body and soul.
I am part of this transitional crowd.
Observing this trend, a farmer once said, "These people in the city… they work and work, and yet they produce nothing."
Now I don't say these things to jab holes in your own life. I say them merely to paint a picture having spent many years taking stock and observing my own life. It certainly doesn't apply to everyone and many people are far more happy and productive living as they do. All the more power to you. We all have our place in this world. But I have a feeling that maybe, just maybe, if you're here reading this, you may be one of the few like me who hasm't quite yet found theirs.
I spent far too long sacrificing my creative talents, my physical capabilities and my dreams. Instead, trading them in for a paycheck and a lifestyle I didn't connect with. Deluding myself as a circle trying to squeeze herself into a circular hole. I write this to challenge you to think about these things for yourself.
While I want to warn against disillusioned decisions to embark on such a journey because you think you'll be harvesting juicy red raspberries from your kitchen window and drinking red wine under the stars as your pig rotates on the home crafted spit over the fire pit; I also want to keep your dream alive. For humanity's sake, we need more people dreaming bigger but more importantly, acting on those dreams. People who are willing to step up and care for the soil, regenerate the earth, and grow more wholesome, unadulterated food. But with these dreams come sweat, tears, blood and a hell of a lot of sacrifice. Plenty of those who have walked this path tell me so and I trust their experience. This is enough to scare off most people. Hard-work, sacrifice, blood, sweat and tears?! FAH-GET ABOUT IT <– But with that kind of attitude a quitter is always gonna quit. But I know you're not a quitter.
We've been taught that this kind of struggle, the struggle for something more meaningful, is for a 'special' few. Meanwhile, the rest of us are damned to a life where we outsource the dirty work, ignore the reward in producing something for ourselves and pretend we don't really care and go on about our day pretending we're happy. We convince ourselves based on what we've been led to believe, that earth-based work is for the simple-minded, the uneducated, the lowly loners and it's something we 'advance' from.
This kind of disconnect between the two worlds frightens the hell out of me. It couldn't be further from the truth.
With the salty taste of sweat lingering on my tongue, I've had but a mild taste. I'm bracing myself for plenty more to come.
If your current life responsibilities are holding you captive, meaning you can't hold your dream (whatever that may be) at this moment in time – I'll hold it for you. I'll keep it alive until you are in the position to act on it. I'll water it, I'll feed it and I'll even sing soothing lullabies to it each night until you're ready to step up and transplant it into your own life.
Because I know what it's like. I know what it's like to want something so deeply. In the core of your being knowing this is right and yet having all the doubt, all the financial concerns, the anxiety, the excuses, the personal drama and even the nay-sayers tell you it can't happen.
But then I know what it's like to do it anyway.
And so here I am. In the honeymoon phase of making it all happen. Living in this dream-like state and pinching myself as I wonder, "Is this real? Is this actually what my life will look like for the indefinite future?"
It hasn't been all sunshine and peach harvesting. In fact, within just two weeks, PLENTY of unexpected 'weeds' have cropped up. I'm detailing this not just for your sake, and for the sake of future farmers, permaculture enthusiasts and earth-based apprentices, embarking on a similar journey, but for my sake. So I can look back on this honeymoon phase and remember why I started and shake my head with laughter at the kind of things I did, thought and so on. We all grow at our own pace. I have no shame in my newbiness and naivety. Nor should you.
In summary:
I arrived to the first few days of continuous drizzle. Amazing for someone who hasn't seen much rain at all for around 4 months (and of course – for the pasture!) but the novelty of mountain rain quickly wore off as I realised it's not the most productive weather for getting shit done and my tropical sun-loving body started craving the sunshine. 
Household matters. No door on my room (work in progress). Rat/mice hole discovery in the kitchen. Learning how to operate the woodfire oven and realising we only have WET wood so on we go, smoking out the house. Dispatching an army of angry black ants as we try to renovate an old door that had been taking residence in the garage. No deal.
One of the biggest challenges has been dealing with the Telcos. Hello rural Australia! We didn't even have a home phone connected for several days because they cancelled our plan having learned there weren't enough ports available to connect us to the internet. Now this may sound a bit trivial to some, but we're in a blackspot zone where you can't even get mobile reception – in the whole area. You have to head 45 minutes down the mountain in a car. This is not conducive to personal safety with a child in the house should anything go wrong. Thankfully, with utter persistence, we got the phone reconnected and now we're embarking on the never-ending painful pursuit of internet connection. Both Sarah and I run online businesses and with our plans for the future, it's a necessity. It's been wonderfully productive not having it and I've certainly learned where my time has been ineffectively sapped all these years, but we are part of a generation where this is as much a part of life as my morning cup of coffee. In saying that, I came out here to be outside, not to sit at a computer desk for 8 hours a day. To be continued… (Update: the internet has been connected after 3 weeks hence why this is being posted a week late!) 
The garden. I spent nearly 4 days weeding the thing out. I now understand the irony of the weed called 'Farmer's friend.' Some were nearly taller than me (and I'm around 6 foot!). But you know what… I loved (nearly) every moment of it. My body has been craving this kind of physical labour for a very long time. It's nice to be able to do this kind of laborious work while my motivation is sky high and the weather fine.
Lifestyle. I'm asleep by 9 – 9:30 pm most days and up by 5-5:30am. Yes, it's been mainly from sheer-exhaustion. Physical labour ya'll! But having never been a night person, mornings are my thing. I like this lifestyle shift. I like it a lot.
Focus or lackthereof. So much to do. Our lists grow longer everyday. Just general household maintenance tasks have stolen our attention from farm stuff. Plant and tree pruning, grass clipping, house cleaning, keeping ourselves fed. A trip into 'town' nearly saps up a whole day. Where has time gone?
I attended our first farmers' market, helping our lovely mentors to sell their insanely good Biodynamic Dairy products. Seeing the blissful looks on their loyal patrons, talking with them, and understanding the importance of this sort of relationship with your customers – priceless lessons. Sarah and I had mixed up some Paleo Bliss Balls and Cupcakes to sell as a way to test the viability of future endeavours and to get some interim income flowing. Sarah can bake. Positive response.
I mapped out a design for our vegetable garden. We're situated in the Bulga Plateau of New South Wales, in a cool temperate climate which I've never lived in before. I'm a sub-tropical kinda girl. It'll be interesting to see how this plays out in the garden. We've selected an appropriate late Summer/Autumn crop of seeds (remember – I'm Southern hemisphere) to begin planting soon.
We collected a lovely trailer full of a mixture of composted and relatively fresh cow manure from the dairy. Pure gold. Sarah and I spent an hour busting our butts shoveling this stuff out on our hottest day yet. Timing folk. Get the timing right. But when a job needs to get done you just get in there and bloody do it. I'll be prepping and planting the garden beds this week.
We still don't know what our next step will be livestock-wise. We've been mulling over it for 2 weeks now. Some house chickens are in order, but we're procrastinating over everything else because we don't have the right housing and materials yet and to be frank, are overwhelmed at the thought. "We're just two city girls,"  I keep lamely excusing myself with. But I don't want others to look at us in this way, so I've been working on eliminating this vocabulary from my personal dictionary. Our initial intention was to start with meat chickens and egg layers – lower cost, easier set up, we can stack functions on top of the rotational grazing of the existing dairy cows, both of us were attracted and interested in the idea. BUT… we're not sure. Doubt lingers.
Finances are pending. We're figuring this out still. Trying to get some small income streams started by capitalising on our existing knowledge base in the form of fermented foods, preserves, and baked goods. Farmstead style. Both Sarah and I have a good grasp on marketing so we're big on branding. It's a matter of getting our face known to the locals, establishing a core product offering, creating superior value-added products and connecting with our customers. Easier said than done of course.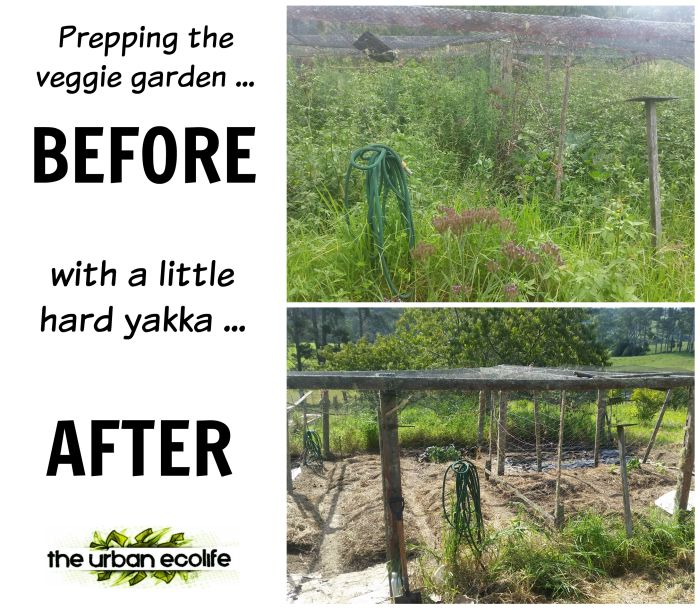 So in some respect, we've made good progress on a personal front (and at least we've got the veggie garden to show for something). I'm giving us some leeway with the rest because it's early days and both of us are still getting our heads around the changes as we've both uprooted our former city lives and thrown ourselves head deep into this. Sarah, my business partner/housemate/shoulder to cry on, has a child who is also adjusting to this new life, a new school and what it means to be a farm kid. The responsibilities that come with this I can't even imagine dealing with!
For myself, I've not even been back a whole month from overseas. Yet in that time I moved interstate to a rural mountain community of 400 people to start a farmstead. I've gone from backpacks, tropical beaches and palm trees to garden gloves, gumboots, green pastures and gumtrees. While I encourage you to keep your eyes on the horizon, I think it's important to continuously reflect on where you've come from!
There's no point getting angry at yourself for not having a successful operation up and running from day one. Things just don't work like that. We're as much in the teething phase as we are in the honeymoon phase. It's painfully slow on some fronts but there's a big pearly white chomper trying to break through. We've just got to keep our minds focused and our hands busy.
I feel the honeymoon phase is drawing to a close. The hard-work is just beginning as we face the reality of making a living and self-sustaining this operation. Stay tuned as I may come back with a whole different take on things in time to come…

PAID ENDORSEMENT DISCLOSURE: In order for me to support my blogging activities, I may receive monetary compensation or other types of remuneration for my endorsement, recommendation, testimonial and/or link to any products or services from this blog. Thank you for your support!