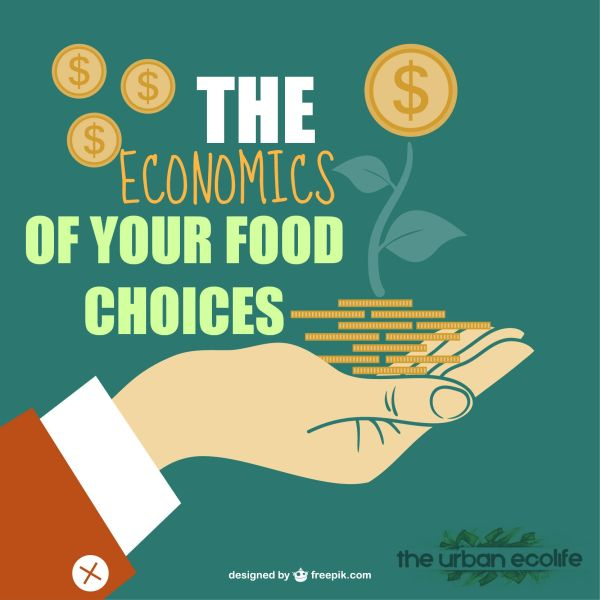 Let's start off with a quick (but rather loaded) question.
When you eat, do you eat for yourself or do you eat for the world?
No pressure. But just think about it for a moment.
It's kind of a crazy thought because yes, of course, we are eating for ourselves. We need to eat in order to live. Our bodies require the nutrition and the calories or else, we may as well be standing in line at the post office and perishing away a slow and painful death.
Often when we eat though, we don't consider the greater impact of our food choices. We are hungry and so we grab the closest and most convenient thing available at hand. In fear of starvation, we succumb to the grumbling goblin in our bellies and eat that burger.
Oh man. You cringe as you swallow each bite. It satisfies your immediate hunger pains and yet, you feel far from energized or super-powered. Licking your greasy fingers, you vow to never pass a fried specimen of food through your digestive track ever again.
Too bad you find yourself in the same position the following week.
It's rather sad (and depressing), isn't it? Situations like this are far from rare though. They're as common as the chicken pox. It's like a scratch that leaves a scar and we wonder why there's little progress in the food systems of this world.
We are a rather self-infatuated bunch of a species. In the process of forever looking inwards to satisfy our own direct needs, we often forget, or deliberately choose to ignore, the evolving world around us. We give little credit to the impact that these personal choices have on the greater good and how this in turns, affects our own quality of life. I'm not about to ramp on about self-discipline, about food restrictions, willpower, control, blah blah blah. This really has nothing to do with your personal problems but everything to do with making better decisions for yourself and the world. I'm not here to talk about what you fail to do. I'm here to talk about what you CAN do. Isn't it suppose to be that the system you support will be the system that supports you? Let's focus some of that energy into doing THAT. We can't perpetually be fighting against an existing system of big corp, fast food giants and GMO that aren't about to budge anytime soon. This leaves no room to build up the kind of food system that we can actually influence more directly and immediately.
If you expect organic vegetables, pasture raised meats, high quality this and that, you can't just be talking about it. You actively need to be involved in the process and the economic circle of exchange. There's the supply and demand model that comes into play that I can thank my humble 1-0-1 Economics class for teaching me.  If you don't buy it, how will these farmers be able to supply it? You can manifest the world you want to live in by supporting the people TODAY who are trying to make it happen.
So what are the economics to your food choices? (I have to put that business and finance degree to some use now, don't I?)
Micro Food Choices
Let's first consider the food choices you make that affect you directly. I know we all want optimal health and longevity so there's no discrediting the importance of the micro food choices. After all, this dictates your actions on the macro level. On the micro level, this is the food you choose to eat based on its health and nutritional benefits to you (or lack thereof in some cases). You question whether this food is health promoting or health defeating. Using the knowledge you've gathered, you are able to determine whether they are full of essential nutrients and minerals that your body can utilize effectively to ensure you are in good health to continue the work you are setting out to do on this planet. Question why you find yourself unable to make better choices for your health and address those problems. Understand food, the affects different kinds of food have on your body and what you can do about it.
Macro Food Choices
This looks at the greater impact of your food choices. Whether you buy your food from a sustainable local farmer who grows food organically using regenerative farming practices. If you pay a fair price for this food. Whether you consider the number of food miles it's taken to bring that food from the farm to your plate. Is it imported – coming with the bonus side of a heavy carbon footprint? The why and hows of where it's been sourced from. What environmental impact such food habits have in the short and long term. Do you buy your food from the corporate mega-mart, fast food conglomerates or from the small guy at the farmers' market?
There is never simply a one or the other situation when it comes to making food choices. The complete system requires you to look at both your micro and macro food choices. Empower yourself with knowledge (and help others in the process too) so you can make these better choices to help promote the kind of world we all want to live in.
Disclosure: The Urban Ecolife may receive monetary compensation or other types of remuneration for endorsement, recommendation, testimonial and/or link to any products or services from this website.