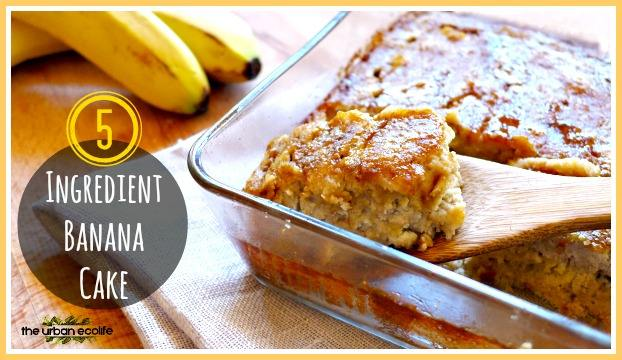 Now cut me some slack. When I say 5 ingredients, this excludes the salt and the optional coconut sugar. Got it? Great. Ok. Now we can move on.
This little baby is more of a hybrid cake than a straight up banana cake. It's not what you are going to be expecting from the usual boring, dry and overly 'normal' banana cakes. It's almost a souffle but not quite. Let's just say the souffle and cake got a bit too cozy, stayed up all night "playing scrabble" and woke up the next morning with a sense of 'what the heck just went down' looming over their heads. Much to their delight, a nice gooey, delicious, finger licking little baby was a result in the form of this banana cake.  Not creepy at all. And so it is… the birth of this 'Soufflake.'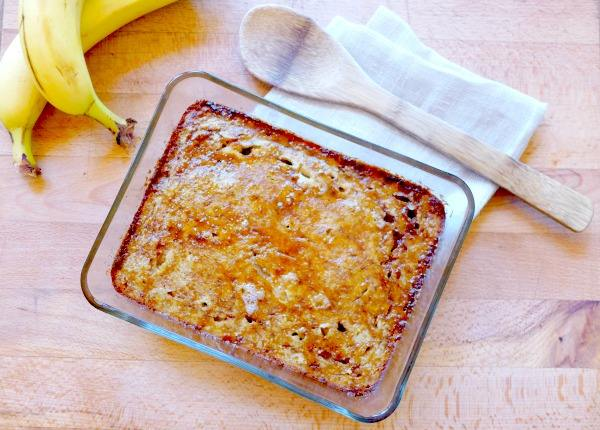 And in case you were wondering,YES,  it's totally acceptable to eat this fresh from the oven and straight from the pan, whether for breakfast, lunch or dinner. In fact, it's the only way. Everyone, forks up.
Don't judge me.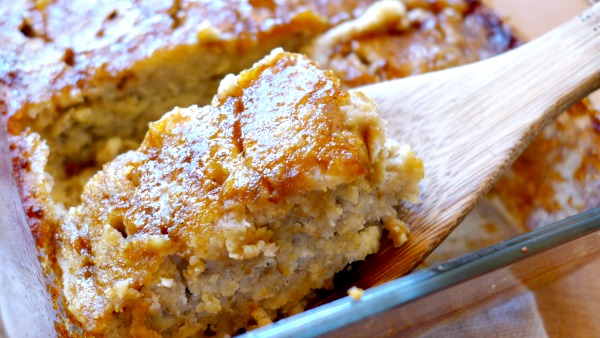 Ingredients
4 overly ripe bananas (the riper they are the sweeter they'll be)
1 cup Almond Flour
4 Pastured Eggs
1/4 cup Coconut Oil This is my Fav
1 tsp Cinnamon
1/4 tsp Sea Salt
Optional: Coconut Sugar (omit if sugar-free)
Instructions
Preheat the oven to 360°F (180°C).
In a bowl, mash up the bananas real good.
Add the cinnamon, salt and coconut oil. Combine well.
Next, add in the eggs and combine well again.
Then add in the almond flour and, you guessed it, combine well.
Grease a baking dish of your choice and pour in the mixture.
Bake for around 20-30 minutes or until golden.
OPTIONAL STEP: The last 5 minutes of baking, sprinkle some coconut sugar on top and return the pan to the oven. Baking the sugar will add a lovely caramel 'glaze' on top and a touch of extra sweetness.
/5-ingredient-super-easy-banana-cake-paleo-sugar-free-dairy-free/

PAID ENDORSEMENT DISCLOSURE: In order for me to support my blogging activities, I may receive monetary compensation or other types of remuneration for my endorsement, recommendation, testimonial and/or link to any products or services from this blog. Thank you for your support!