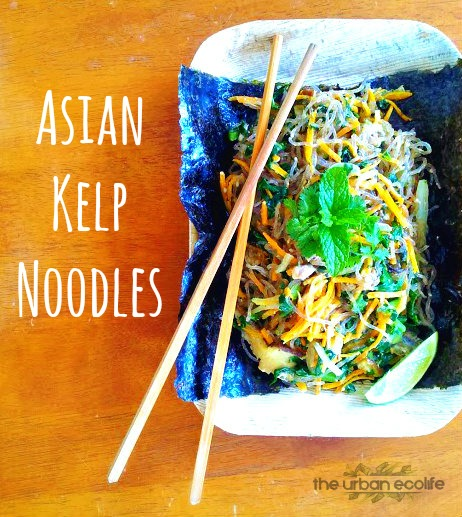 The magical thing about Asian food, and why I love it so much, is because it reminds me of some very distinctive memories. Every mouthful takes me on an exotic journey back in time to my intrepid adventures through the region. A particular flavour may remind me of that one time I did this or that… and you know how the stories go (no one likes a travel bragger).  I love that about food; the power of it to evoke strong emotions that are tied to specific memories and experiences. The food itself is pretty good too. The dishes are fresh, zesty and bursting with flavour. They're drenched in tradition and culture, with recipes being passed down through the generations. That's the kind of legacy I wish to leave for my children-that-have-yet-to-be-formed-in-my-womb (and are not on my radar for the foreseeable future). Sorry, too much?
So you know how noodles are a big thing in Asia? Well, they are. There's no denying that little fact. Traditionally, it was all homemade using whole ingredients though. Have you seen the noodle pros at it?  They have skill.
Sure, there's wheat in Ramen noodles which are a bit heavy on the gut but of course, traditionally, they wouldn't have been using GMO wheat like you see gracing our supermarket shelves today. There's plenty of gluten-free options like soba and rice noodles floating around too. Today though, you hardly have to settle for the ordinary. The humble noodle has started to get all fancy. I have a slight inkling that it's trying ever so hard to stay in vogue.  I've seen zucchini, sweet potato, shitake, egg, carrot and yes, kelp noodles, to name just a few. You name it, it's probably been done. Anything goes you noodle fanatics.
So back to this dish I've made using kelp noodles. If you've never tried kelp noodles before, it's totally worth a shot. They're like a 'bean sprout kind of crunchy'. Not rubbery like you might imagine. A good kind of slippery. Oh man. I suck at explaining that stuff. Just eat it. I've jam packed my favourite flavours into this dish and yes, citrus does go with coconut milk. Trust me on this.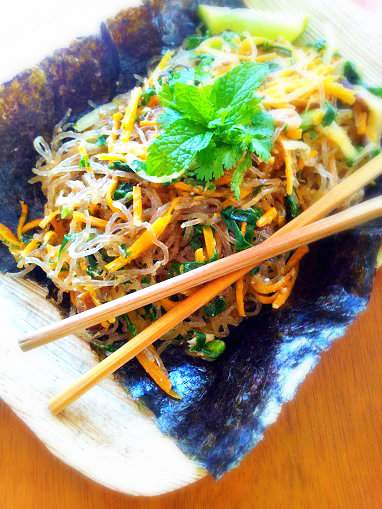 Citrus Asian Kelp Noodles (Paleo, Gluten-Free, Vegan)
Ingredients
1 packet of Kelp Noodles (I like these)
1 Onion (diced)
1 Clove of Garlic (diced)
1 tsp Ground Ginger
1/2 tsp Chilli flakes
1 cup of Grated Carrot
1 cup of Asian Greens (I used bok choy)
1 cup sliced Shitake Mushrooms
1/4 cup coconut milk
1 Mandarin (or in lieu, 1 small Orange)
Coconut Oil (for frying)
Fresh Cilantro, Basil and/or mint to serve
Lime to serve
Nori Sheets Where to buy
Instructions
Follow the instructions on the package for the Kelp Noodles. It involves soaking them in water for around 10-20 minutes.
In a hot fry pan or wok, heat some coconut oil.
Add the diced onion and garlic. Fry for a couple minutes until translucent.
Add the ground ginger, chilli flakes, shitake mushrooms, carrots and Asian greens.
Cook for another few minutes.
Add the coconut milk and sliced mandarin for the last minute to heat through.
Remove from heat and serve with fresh herbs and a slice of lime.
Serve on a sheet or nori for something fancy & unpractical. Alternatively, shred the nori and add to the noodles for something a little more practical.
Chow down (with chopsticks of course)!
If you liked this, please feel free to 'Plus One' on Google+ below and share!

PAID ENDORSEMENT DISCLOSURE: In order for me to support my blogging activities, I may receive monetary compensation or other types of remuneration for my endorsement, recommendation, testimonial and/or link to any products or services from this blog. Thank you for your support!