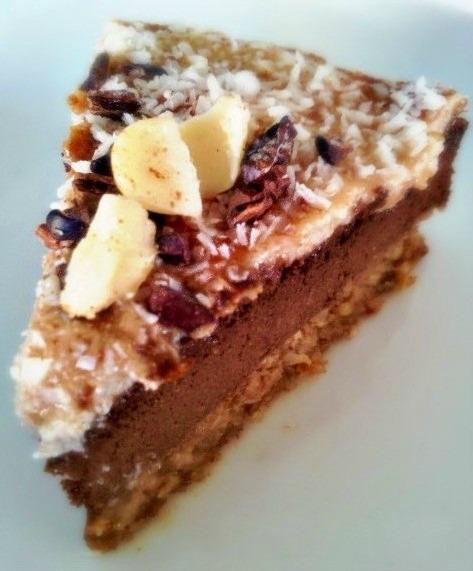 It's my BIRTHDAY! Three cheers to me. Hip-Hip….
*crickets*
Okaaaaaaay. Moving on then shall we?
What a momentous occasion this is. Not so much that it's my birthday, but more so the fact I baked a freaking cake! A big fat, moist, moussey, chocolate one at that. Can you tell I've worked in sales?
Seriously, I've outdone myself. I know that doesn't take much when it comes to me and baking but I need to give myself a gold star for this effort. If you're expecting the typical chocolate cake, then you've come to the wrong place. This one doesn't have flour, hence the moussey consistency. I really like it. I'm not a fan of spongey, dry cakes that tend to be serial offenders at birthday parties. The nutty crust and the coconut cream/caramel 'frosting' (for lack of a better word) is there just to add more YUM to the party in my mouth because that's the only party going on around here. I have a thing for wanting it all and wanting it all RIGHT HERE, RIGHT NOW.
I feel like writing something a little bit left field from the ordinary. A little bit of 'introspection'. Birthdays are good like that. Making you realise where you've wasted the last how many years of your life. So anyway, my day, I make the rules. I'll probably, maybe, yes, totally foul this up I'm sure, but if I do, I give you permission to call up the next batter and hope to the shiny stars that twinkle in the sky that they have a better swing than me.
But we all know they won't.
Because I was a pretty kickass Softball player back in the day. I once scored myself a lollipop from my coach for hitting 3 home runs in one game!
So what does today mean for me?
Well, it means I get to do what I want. Isn't that what birthdays are really all about? That, and being smothered in affection with big sloppy kisses and warm embraces. Maybe a foot massage if you're lucky? Or so I would hope.
One thing that I don't get about birthdays is how they suddenly become a competition to show who can flatter you with the most affection and buy you the best presents (who's complaining about that though, really?) or forever be held liable for being the worst friend EVER. I don't, however, wish to feel obligated to another person to return the favour. It just doesn't seem genuine if that's the case. Before you jump me on the curbside, let me be clear. I don't have a lump of black coal as a heart. I'm a caring and sweet person in real life. I once saved my brother's pet fish when it attempted suicide by jumping out of its fishtank and was left flopping around on the kitchen floor.
What I would like to propose instead is a no obligation free birthday wish. I hereby would like to make a declaration. Under no circumstances do I bind my family and friends to the obligation of going above and beyond on my birthday. Consider yourselves released. Don't you see? When you're one of those people who consistently remembers everyone's birthday and showers them with well wishes on every form of social media and communication line imagineable, you make the rest of us look bad. If we simply let go of this obligation, then we don't have to look bad. So if you don't, then I don't have to. It's called reciprocity folks.
Back to the point. You know the one, with it being my birthday and all? Today also marks the day that, figuratively speaking, my crappy plastic training wheels are officially being cast aside and replaced by a mean pair of chrome rims. Thank you quarter-life crisis!
To be truthful, I believe I actually had a premature quarter life crisis two and a half years ago when I went and bought a motorbike. Yeah, I know. Totally hard core. A friend and I went out on a whim and got our bike licenses and I was all like, "Well, now I need a bike to ride."
Such logical thinking.
So, as you sit here and read this, I'm 97.65% positive you want me to say a little speech.
I'm sweating in my sticky pants right now. Pressure. Time to put those school captain skills to the test! Ok, here goes.
"I would like to take a moment to thank my Mum and Dad for bringing me into this world and putting up with my continual gallivanting and no doubt, precarious and frightening adventures abroad (through their eyes, not mine) and unwillingness to stay still for 5 seconds. For my siblings for being, well, my siblings (there's too many of you to bother thanking each of you individually in this post right now. Just know that I think you're all okay). For my grade 4 teacher for helping me to excel in reciting my 5 times tables. And to the Thai massage lady the other week who complimented me on the muscular definition in my legs. No kidding. No seedy cracking onto me here. She was totally sincere. That was enough feel good buzz to keep me high for weeks!
And finally to you, whoever you are, reading this right now. You are AMAZING and I apologize for going off on such a tangent in this post but I figure, it's my birthday, I do what I want. For one day only. Let-me-have-this-moment. Please. And I know it's not my mum reading this, because even my mum doesn't read my blog. I clearly haven't made it in the blogging world yet."
In closing, can someone please reassure me that I'm not the only one who feels that birthdays actually get less and less inviting the older you get? Because this year just seemed to creep up on me. It jumped out from the shadows and was all like, "BOO! You're old now. Take that Peabrain."
Now before you all go and get whiny on me by saying, "but Emily, you're only 25", hear me out.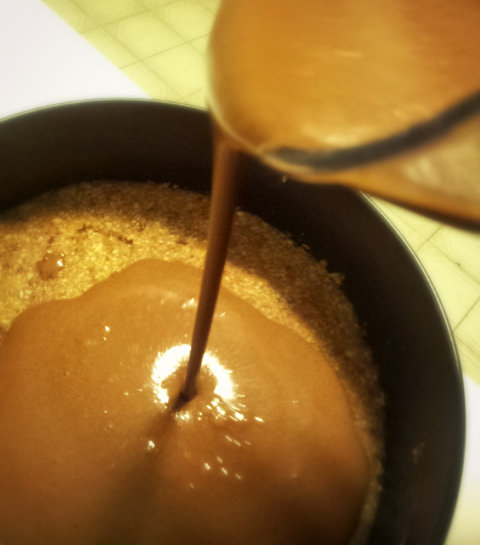 People are popping out babies left, right and center. Do I need to mention the weddings?! And the lifetime financial commitment in the form of nails being hammered into your will, or, more popularly referred to as, a little thing called a mortgage?
Don't get me wrong, these are not bad things. These are GREAT things in fact. Things to drink glass upon glass of champagne over in fact. But these are not things that are happening to me and so I just can't relate and I can't help but feel like a little girl trapped in an aging little old lady's body (or older I say. I don't want to imply my friends are old. They're not. They are all aging very gracefully. In fact, I have the most attractive friends on this planet hands down, so back off, they were my friends first!).
But alas, my dearest Emily Dickinson comes to the rescue to remind me this:
"With turn not older with years,
but newer every day."
So you see, I'm not actually aging at all.
Now I'm off to go eat some more cake.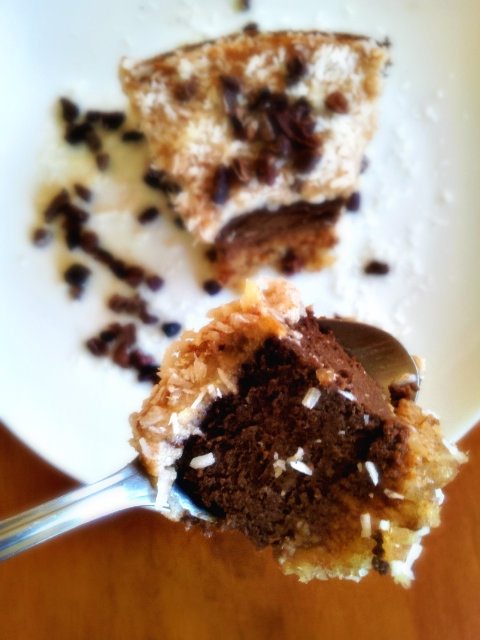 Decadent Flourless Chocolate Mousse Cake
Ingredients
BASE
1 cup of Macadamia nuts
½ cup of Medjool dates (around 8) – soaked in warm water for 30 mins
2 tablespoons of Raw Honey
½ cup finely Shredded Coconut
Pinch of salt
CAKE
500ml Coconut Cream (leave in the fridge the night before to thicken)
(you'll only use 400ml for the cake, the rest for the frosting)
5 eggs (Why 5 and not 6? Because I'm awkward like that)
½ cup Cacao Powder I like this one
½ cup Coconut Sugar I like this one
1 tsp Vanilla Extract
½ tsp bicarb soda (baking soda)
Pinch salt
FROSTING
100mL Coconut Cream
8 soaked Medjool Dates
1 tablespoon Maple Syrup or Honey
½ teaspoon vanilla extract
Instructions
Preheat the oven to 160°C (320°F).
BASE
In a food processor (or blender), blend the macadamias just until they are crumbly. Place them aside in a bowl.
Next grab half a cup of medjool dates (around 8) and blend into a paste.
Add back the crushed macadamias, 1 teaspoon vanilla essence, 1 tablespoon of honey, ½ cup of finely shredded coconut and a pinch of salt. Pulse until they are evenly combined.
Grease the inside of a springform tin with butter or coconut oil.
Firmly press the mixture down and even with the back end of a spoon.
Smush it in there real good. Moving on.
CAKE
For the cake, whisk up 5 eggs.
Add the 375mL of coconut cream and mix again.
Then add in the 1 teaspoon of vanilla essence, ½ cup of cacao powder, ½ cup of coconut sugar, baking soda and another pinch of salt.
When it's all combined and mixed well and good, pour over the base.
Place in the oven for 30 mins or until the little cake pin that you use to test if it's cooked comes out clean.
Allow to cool.
FROSTING
Take the remaining coconut cream and whisk and whisk (I used my automatic, electronic, power-mazing immersion whisker) until it's whipped up pretty good.
Blend around 6 dates and ½ teaspoon vanilla and 1 tablespoon maple syrup. Whip it all up good together now. Whip it. That's right, whip it!
GENTLY, remove the cake from the spring-form tin (you made need to use the edge of a knife to separate the cake from the tin).
Now go cray cray smothering that frosting all over the cake
Finally, sing an ode to me (Happy Birthday will do fine), cut the cake, kiss the nearest boy, serve and face plant.

PAID ENDORSEMENT DISCLOSURE: In order for me to support my blogging activities, I may receive monetary compensation or other types of remuneration for my endorsement, recommendation, testimonial and/or link to any products or services from this blog. Thank you for your support!