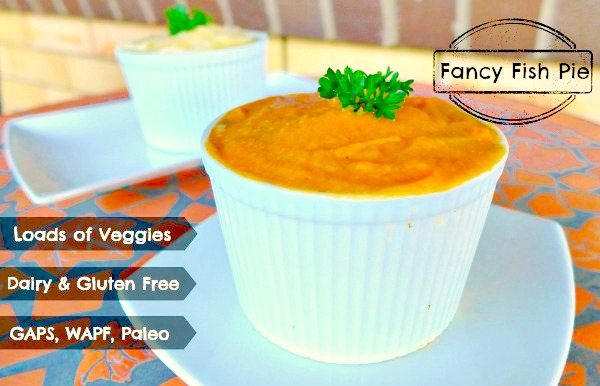 There always seems to be this ongoing feud between the passionate plant eaters and the more 'carnivorously' inclined. Whether you eat meat or not, have you ever stopped to think about these other little guys caught in the middle, otherwise known as Pescetarians. You know, the ones who eat fish. No one ever has a pickle to pick with them. Now how is that fair?
Think of it this way. Eating fish can have just as much of an environmental footprint on this planet. How is it any less abhorrent to see equally as outrageous numbers of fish being farmed and fed GMO soy and over-fished, literally raking the oceans dry, as it is to eat factory farmed beef and conventionally grown, GMO and pesticide laden crops?
STOP RIGHT THERE BULLS-EYE
Now before you jump me on the curbside, I haven't been trapped in a trawler, dragged along the ocean floor and had my commonsense and respect left out to dry. I'm trying to make a point. I know, I know. My mum always tells me I have a funny way of going about these things. Mum is right about most things. Probably about this point too.
I'm merely using this as an example so you can see just how stupid this all sounds. Hopefully, you've been reading long enough to understand that I am neither here nor there when it comes to this sort of thing. I welcome people from all playing fields because essentially, we're all on the same playing field here, that is, planet earth. Go figure.
Picking a bone at someone else's personal decision as to what kind of food they put in their gob, rather than based on how it was produced and found its way onto their plate, is merely quarrelsome and unproductive.
People who are so focused on alienating others based on certain dietary and lifestyle choices, of which their judgement comes with little understanding as to why someone has chosen or needs to eat in such a way, have it all wrong.
They're fighting the wrong fight.
Bullying and pestering each other on such insignificant grounds in the grand scheme of life and this planet, does little to help move the human race closer towards finding sustainable solutions for people to pursue that will actually make a difference in this world. Breathe Emily, breathe.
Can you see the running trend in the example above that may just be the single most important factor that we seem to be ignoring in the ever so idealistic debates between dietary dogmas? GMO seeds, factory farming, unsustainable agriculture and so forth. None are essentially better than any if we consider the negative impact of each lifestyle choice singularly than just comparatively. Why is the suffering of one animal any less significant than say, a fish, or even a plant for that matter? By thinking like this, comparatively and judgmentally, you are really only doing one thing. Digging your own grave. Seriously, you will do your head in before you find a way to eat on this planet that's 100% completely purist, ethical, and blessed by the saints of heaven. Every choice and action has a consequence. Welcome to life as a human. We have a negative impact on this planet what ever way you try and flip the equation. Unless of course, you are some hybrid creature born from the womb of an ape and have yet to encounter the sinful touch of man and live buried in the depths of the African jungle unbeknownst to another soul. HIGHLY DOUBT IT TARZAN. Even Tarzan had a human mummy and daddy.

Let's get one thing straight. 
No one is more superior to any other human being on this planet based on their dietary preference. Point blank, we're all created equal, okay? So rather than judging someone by their decisions at that moment in time, we should be striving to positively influence and encourage each other and educate, educate, educate. Our focus should be on helping others to make better decisions for our health and our planet so we all have the opportunity to know our options, and can make educated decisions about those options based on our understanding of the bigger problem we're all  being slammed in the face with. That is, how to live more sustainably.
By doing your best in choosing to eat as close to the source as possible, supporting local farmers who are producing sustainable and organic food, and getting back in touch with how your food has come to finding its way onto your plate, will take you further in this world than weighing up the mentally torturous and soul-crippling decision of deciding whether eating that piece of kale will make you more righteous than eating that piece of lettuce.
Now back to the fish and flesh of this recipe.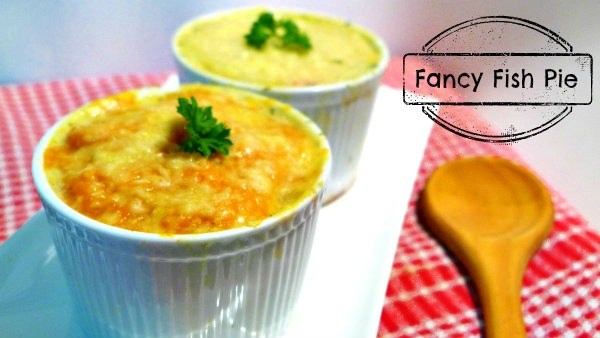 Oh, and don't worry Pescetarians. I don't have some buried vendetta against you that's suddenly emerged like a zombie apocalypse. I love you just as much. Just had to make that clear as mud.
The good news is that we can all make better decisions when it comes to what kind of fish we choose to eat. Being educated about those that are being wildly over-fished and those that are less desirable due to higher levels of toxins (such as mercury), is the first step. There's no denying that pollutants, as a direct result of our modern environments, are finding their way into our oceans.
In the USA, you can refer to this guide to find what kind of fish is the most sustainable option for you in your area.  Australians can refer to this guide or this one called "Good Fish, Bad Fish".
I used Leatherjacket in this recipe, a fish that's often discarded because of low market demand. This is one fish that is highly underrated which is actually great news for Frugalists as it makes for a more affordable option! Not to mention, it holds together well and has a very pleasant flavour. Regardless, choose a sustainable fish variety that suits you and is accessible in your area. It doesn't even necessarily need to be a white fish. Salmon and sardines would work just as well in my opinion!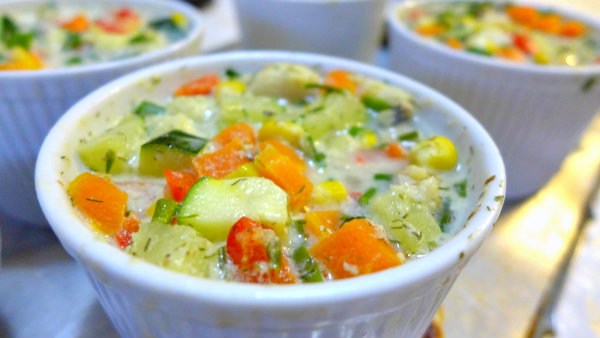 See, I told you it was bursting with vegetables.
Ingredients
500g Fish of choice
1 Leek
2 diced Carrots
1 large Zucchini
1 dices Bell Pepper
1 Sweet Corn (organic & non-GMO) – optional!
2 Shallots
2 Tbsp fresh Chives
Handful of fresh Parsley
CREAMY "SAUCE"
2 cups Coconut Milk
1 tsp Arrowroot Powder
1 tsp ground Coriander
1/2 tsp ground Garlic
1/2 tsp ground Ginger
2 tsp Dried Dill
Salt and Pepper generously
TOPPING
Approx. 800g Sweet Potato or White potato (I've used both)
2 tbsp Ghee Make your own
If Sweet Potato – tsp each of Cumin/cinnamon
If White Potato – tsp nutmeg
Salt and Pepper (generously)
Grated Parmesan (optional)
Instructions
Chop and boil the potatoes on low heat.
Whilst your potatoes are cooking, prepare the fish pie.
Chop and dice all your vegetables.
In a pot on the stove, saute the leek and shallots first in coconut oil before adding the other vegetables.
Lightly steam the vegetables for a few minutes until just cooked.
Turn the heat off and add the fish, herbs, coconut milk, ground herbs and spices. Season generously.
Whisk with a fork 1 tablespoon of cold water in a glass with the arrowroot powder before adding to the vegetables
Preheat the oven to 180 °C (350°F).
Transfer to an oven proof baking dish or individual ramekins.
Your potatoes should be cooked by now so remove from heat and smash with the ghee and appropriate spices (as suggested above), salt and pepper. I use an immersion blender to get a nice and creamy consistency.
Smoother the potato over the pie and sprinkle with Parmesan if you desire (obviously omit if dairy free).
Cook on 180 °C (350°F).for 25-30 mins or until the sides start to golden.
Serve and enjoy!

PAID ENDORSEMENT DISCLOSURE: In order for me to support my blogging activities, I may receive monetary compensation or other types of remuneration for my endorsement, recommendation, testimonial and/or link to any products or services from this blog. Thank you for your support!