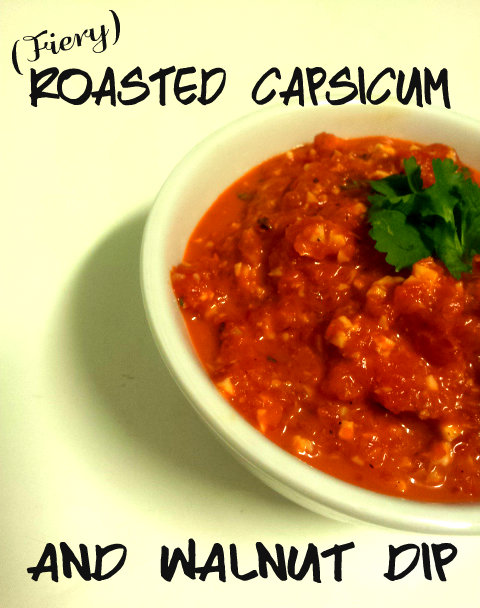 When hummus just won't do, and you want to spice up the party, I recommend a little something like this fiery roasted capsicum and walnut dip. Speaking of parties, right now I'm totally overwhlemed by an endless trickle of going-away parties and the fact that all my friends are leaving Brisbane. Yes, there's a movie called that, and yes, my life reflects this sad reality right now. Ok, maybe not all  friends but enough to make me sob miserably into my hankie.
Alas!!! The sadness will be short lived. I don't think I've announced my 2014 plans to the wide world web yet, so guess what?!!
I'm not about to tell you right now.
I'm a sucker for suspense. Stay tuned though… I'll reveal all in the New Year! (Cliffhangers are AWESOME, right?!)
And FYI for all you Americans out there – a capsicum is simply a bell pepper in disguise. They heard the chili police were after them so they changed their name and hightailed down here to Australia. Me no speak Americano.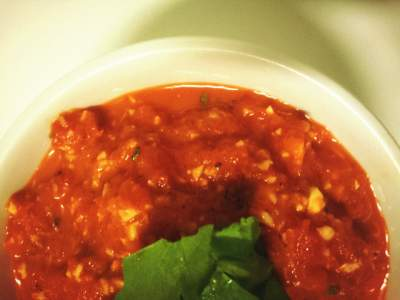 Fiery Roasted Capsicum & Walnut Dip
Ingredients
Instructions
Cut the capsicums into 4 parts each and lay on a baking tray skin side up.
Roast at 180°C (350°F) for around 30 mins or until you start to see the skin wrinkle.
Place the capsicum pieces in a bowl and cover with another plate. Allow to sit for 15 mins. This will allow the steam to soften the skin.
Take the plate off and allow to cool. Gently start peeling the outer skin from the capsicum and discard.
Place the capsicum flesh in food processor with the spices and olive oil. Blend until a smooth consistency. Add the coriander and walnuts and quickly pulse until the walnuts are fairly crushed. It's then ready to be served!

PAID ENDORSEMENT DISCLOSURE: In order for me to support my blogging activities, I may receive monetary compensation or other types of remuneration for my endorsement, recommendation, testimonial and/or link to any products or services from this blog. Thank you for your support!