I love breakfast. It's by far my favourite meal of the day. All the good stuff comes out to play and heck, anything goes. Once you get over the childish perception that breakfast needs to be bright rainbow coloured little rings served in a bowl with a spoon, you have full reign over the pantry to cook up a storm. Heck, even eat leftovers if you want. I do it all the time. Just make sure the first meal of your day is something that doesn't leave your teeth feeling like they are ready to fall out. Protein works wonders.
Some people are all about fasting through breakfast. Sure, I could go without, but why would I want to? I don't like missing out on opportunities to eat, ok? Plus, after fasting while you sleep, the body needs a pick me up and breakfast is the most opportune time to refuel it with delicious and nutritious energy. It's the best way to set up your day so you are ready to go-go.
So what does the average breakfast for me look like? 
If you can't tell, I love greens and I love eggs. Dr Seuss was onto something but I think he just missed the plot in my personal and reputable opinion. Green eggs and ham? No, not quite. Let's try Eggs and Greens. Sure, it doesn't have quite the same ring to it but I'm no Dr Seuss and it's certainly more palatable for my taste buds. So let's go with that.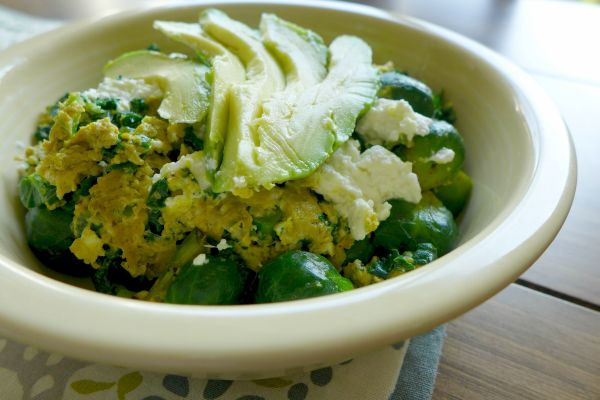 There's just something about salty kale and brussels sprouts, sauteed in coconut oil and served with eggs and avocado that just makes my heart flutter. Hence, I just had to share this green breakfast bowl recipe with you to show you what's commonly served up on my breakfast plate. Sharing is caring after all.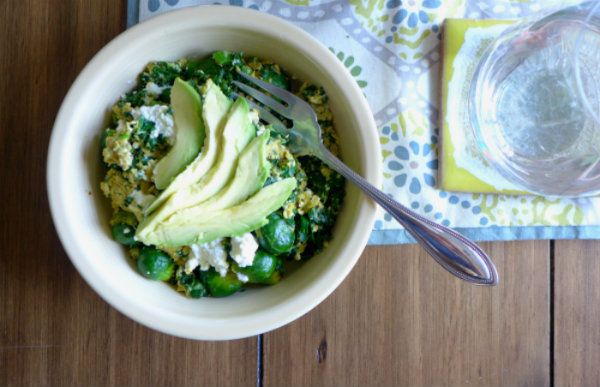 Green Breakfast Bowl with Kale, Brussels Sprouts and Avocado
Ingredients
2 Organic & Pasture-raised Eggs
1 cup of chopped Kale
1/2 cup of Brussels Sprouts (cut in halves if they're large)
1/2 Avocado
1 teaspoon dried Basil
Fresh Parsley or Cilantro
1 tablespoon Coconut Oil
Salt & Pepper
2 tablespoons of Goat Feta Cheese (optional)
Instructions
Heat the coconut oil in a fry pan or cast iron on low-medium heat.
Saute the brussels sprouts for 4-5 mins or until cooked.
Add the kale and lightly saute for another 2-3 minutes.
Add the dried basil and crack the 2 eggs.
Reduce the heat to low.
Using your spatula, lightly scramble the mixture together.
When the eggs have just cooked (don't overdo), serve onto a plate and season generously with salt and pepper.
Slice the avocado and add enough fresh chopped herbs to suit your taste.

PAID ENDORSEMENT DISCLOSURE: In order for me to support my blogging activities, I may receive monetary compensation or other types of remuneration for my endorsement, recommendation, testimonial and/or link to any products or services from this blog. Thank you for your support!