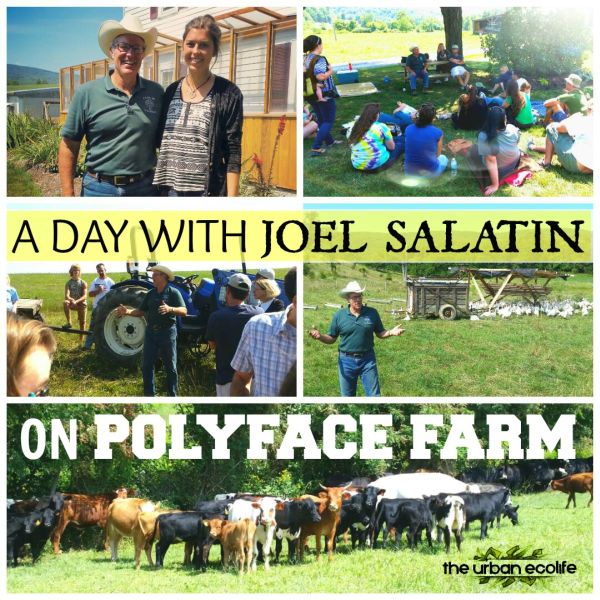 If ever there were such a thing as farming celebrity (which I totally think there should be – take that mind numbing Hollywood), Joel Salatin would be an A-lister. Well, he kind of is if you speak with anyone hailing from any of the Permaculture, Paleo, Real Food, Sustainable Agriculuture, 'Save the world from the plight of factory farming and earth pillaging' movements. He's got a voice and he's not afraid to use it.
So here I am. Little Aussie me. IN VIRGINIA. How on earth did I end up here?! Well, after speaking with a number of my friendly fellow bloggers, we made a pact to meet up at Polyface for a field day with Joel. Lucky for me, I was already travelling on this side of the planet so yes, there was no way I was missing out on this once in a lifetime opportunity.
Along with the myriads of animals they raise, the Polyface Farm also grows a majority of their own food to feed the family, interns and apprentices who live on site. The hoop greenhouses are a perfect way to grow food all year round. Theresa, Joel's wife, reigns in the kitchen; canning, preserving and fermenting everything she can. Domestic goddess indeed.
I first heard about Polyface Farm on a Food Connect (a local CSA) Farm Tour in South-East Queensland (my homeland back in Australia) some 3 years ago. A couple also on the tour had mentioned on their recent trip to the US this lunatic farmer's property they went out to visit in some place out 'whoop-whoop' (Australian term for being out in the middle of no where) in Virginia. It was named Polyface. Well that's funny sounding I thought. I was only beginning to dabble in the world of sustainability myself and becoming interested in understanding how your food source is as important, if not more, than what are you eating. Nevertheless, I did some research on Joel when I got home. Let it be known, as I watched some random Youtube video, the moment the first few words escaped his mouth, I liked what I heard. I was hooked. Ever since, I've been gobbling up every video, podcast, article and book I stumble upon that even mentions his name. Celebrity crush (stalker) much?
This down to earth man has the gift of the gab and he has his audience captivated.
For those unacquainted with this 'lunatic farmer' and Polyface Farm, it's a sustainable paradise nestled in the back hills of Virginia where chickens, cows, turkeys and pigs are allowed to roam free on pasture and do everything that makes them animals. To put it in 'Joel terms', the chickens are allowed to express their chickeness.'  By following the laws of nature (not man's) and replicating an ecosystem as one would witness in the wild, he's created a self-sustaining system that is both profitable for the farmer, and ecologically sound for the world. These methods of farming actually work to restore the land, build soil, raise healthy and organic animals all whilst sustaining the local ecosystem (including the people within the community).
I just LOVE what they say on their website,
"We are in the redemption business: healing the land, healing the food, healing the economy, and healing the culture. Writing, speaking, and farm tours offer various message venues."
Our day at the farm started with the 2 hour tractor, hail bale ride around the farm, better known as the Lunatic Tour. Joel is your personal guide for the morning, explaining the philosophy and the practicalities behind his farming methods, showing you the animals, and yes, you get to listen first hand to Joel's wit and charisma. Seriously, regardless of how much you have or haven't read or heard about him, you will be thoroughly edutained.
So on hay bales we rode over the rolling hills to these world renowned greener pastures. Following the tour, my friends and I enjoyed our BYO picnic lunches on the property and were treated to a one on one talk with Joel. He spoke about his past failures and successes, his hopes and dreams, and he shared with me the importance of where Australia sits on the grand scheme of things.
Joel taking the time to speak with fellow bloggers and I, includinh Home Grown and Healthy, Health Starts in the Kitchen, Predominantly Paleo, Happily Ever Crafter, Gutsy by Nature, The Curious Coconut and Grow in Grace Farm.
So here's a note to my fellow Aussies from Joel (and myself).
We are on the bleeding edge of climate change. The hole in the Ozone layer being located directly off the coast of Australia positions us at least 20 years ahead of the world in terms of what effects we will see from climate change. The droughts, the extreme climate conditions, the flooding, bush fires, ecosystem displacement, you name it, it's all happening. It shatters my heart to hear our Government approving the expansion of a coal port off the coast of Northern Queensland that will see to the dredging of 149 million tonnes of seabed across the Great Barrier Reef. This is the largest, most diverse and fragile reef system in the whole entire world that's already lost 50% of its coral cover in the last 30 years due to global warming. And yet here we are. We are still contributing to the problem despite the evidence that suggests this is real and hey, maybe, just maybe, we should be doing otherwise.
I digress. Back to Joel.
Joel explaining his how he raises his hundreds of turkeys on pasture. Don't worry, they'll be ready for Thanksgiving.
Hearing his words just reaffirmed my own hopes and dreams to bring these messages home with me and the role I have to play in bringing our calls to action to the dinner tables of every home in not only Australia, but as many homes and heart that I can touch.
What Joel preaches and practices on his farm isn't as radical as we've made it out to be and Joel will be the first to admit this. It's a clear sign of how far we've deviated from our natural course as human beings on this planet and our role as stewards in sustaining the earth that supports us. I like to think that his rise to farming stardom has also come about as a reflection of our society's desperate cries for reconnection with our land. We are experiencing a global epidemic of natural deification and diminishing understanding about our food sources. He's become the pin-up boy much to the thanks of his unashamed political incorrectness slamming the institutions that are contributing to our current sick system. Looking around at the smiling faces on the tour, it's clear to see, his passion is infectious. This is not to downplay what he has done for this movement but more so, to empower each and every one of you that what he is doing, we can scale to our own lives and replicate. This is evidenced in his transparency and encouraging persona. No magical superpowers required.
You can buy meat straight from the farm in the Polyface store. This is a meat fridge to be envious of! Everything from pasture raised pork, to chicken, beef, turkey, eggs and organic salad. Lucky people who live locally!
Back to the main course. Here's some of the best advice I've heard yet; the enamoring words that came spluttering from his mouth.
The chicken tractors are moved daily by a simple trolley to allow the chickens to graze on fresh pasture. These are the pullet breed which are bred for meat. He is able to keep thousands on his property using this method. No more than 75 chickens a tractor. This maximizes the capacity of the tractors without overloading them. The chickens are healthy as they eat a natural, organic diet and don't live in their own shit stacked on top of each other like in factory farms. No antibiotics needed.
Joel's 3 top tips for what you can do!
1. Get in Your Kitchen
We are never going to have an integrity food system until there's enough eyes looking and knowledge knowing, to hold us accountable. You can't advocate personal, visceral participation as profoundly as we have and have food integrity. It's impossible. I wish I could snap my fingers and everything would be right but that's not the way life works. You don't snap your fingers and your kids turn out as angels. You have to work at it. You can't snap your fingers and have a good marriage. You have to work at it.
You've got to get in your kitchen; the whole rediscovery of getting excited about domestic culinary arts. As a culture we've marginalized domestic culinary arts. Ultimately, a home-centric culinary life is critical for everything else. Everything flows from that. If you're going to subcontract out all of your food participation, experience and relationships, then you're going to be completely dependent on a lot of other agendas that may or may not have your best interests at heart.
2. Find Your Local Food Integrity
Take your recreational and entertainment budget  for the year and spend your time and money that you would normally spend on these things, and invest that in discovering your local integrity food network. The truth is now that every place now in the country, and arguable the world, has high quality integrity food producers in the area. Find them. Many of them are desperate for five more customers. Ten more customers and they can quit their town job and be on the farm full time. I think we need full time farmers. We don't need more hobby weekend farmers. We've got enough of those. What we need are viable farm businesses that actually work and that means we need to elevate farming to something higher than breaking into the entertainment industry by waiting tables. We need to get to a critical market mass to where folks can actually make a living doing this. It's kind of a catch 22. Farmers tend to not be good marketers and consumers tend to not invest in finding their farmers either. And so if the two can meet half way, you might find that even some hermit curmudgeons are fun to buy from if you find them and go to their places. Just realize that there are places in your community that have really good food and patronize them.
The famous 'salad bar' beef. Each day the cows are moved from pasture to pasture with the assistance of portable electric fences to mimic the natural migratory patterns of wild herds (such as bison). This allows the grass to regrow allowing for more carbon sequestering, soil development and clean, healthy cows. The chickens come in after the cows to further work the ground and this process helps to naturally sanitize the fields. No horrid smells one would get a whiff of from a factory farm. I can testify to the difference in the health and hygiene of cows at Polyface compared to factory farms because I happened to have visited the largest dairy factory farm in America earlier this year. You do not want to smell that.
3. Do Something Yourself
It may be something as simple as having a vermicomposting box under your sink. I'm a big believer in chickens. Throw out the dog, the cat, the parrot and the gerbil, and get two chickens for your condo. The chickens can eat the table scraps and lay eggs for you. Now you don't have biomass to send to the landfill on the diesel garbage trucks and you have great eggs. What I'm talking about is an integrated food system rather than segregated. Maybe you have a roof top you could put a bee hive up there. Or a patio you could put a pot garden on. Well, I mean container garden. You could have a pot garden too (laughs). You have a backyard, a front yard or a three foot strip between your stoop and the sidewalk you could put some tomato plants in. Not everybody can but almost everybody can do something related to food and soil development. You can do something there. When you do any of those things, you find them extremely soul satisfying and when you find something soul satisfying, you want to do more. The first step is the hardest and the second step only comes after the first step. People want me to solve all the problems of everything from food deserts to institutional problems to liability. We could sit here all day in a focus group and yak about how to solve all these problems but we're not going to get there without taking a first step. Only after that will the second step become more clear.
If society thinks he's a lunatic, then I want to be one too.
"Participate in your ecological umbilical."
Joel Salatin, Polyface Farm 2014
PAID ENDORSEMENT DISCLOSURE: In order for me to support my blogging activities, I may receive monetary compensation or other types of remuneration for my endorsement, recommendation, testimonial and/or link to any products or services from this blog. Thank you for your support!