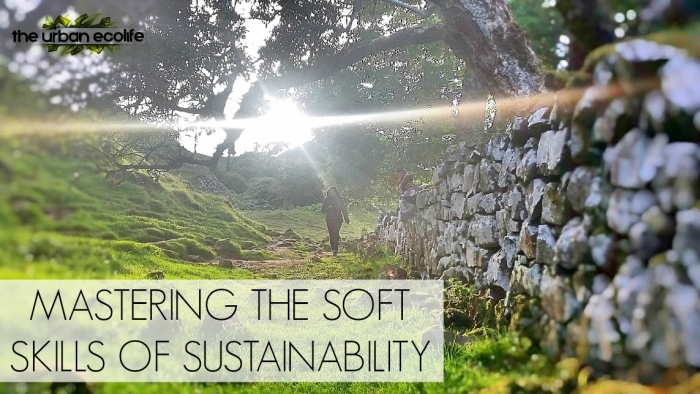 I have something important to share with you.
It's been weighing on my heart for some time.
It's a feeling of guilt. A feeling of not being enough. Of not being the bigger, better person that I so desperately want to be…. now.  Of not speaking up enough about this cause that I am so passionately and whole-heartedly invested in – the cause to leave this planet, and my impact on this planet, better for tomorrow than I left it yesterday.
I say this because my blogging (or lack thereof) over the past few months has taken back seat. I am still abroad in some far off land (currently that's Morocco) and it's a funny contradiction of sorts because I feel like I owe you an apology. An apology for not being here on this blog. Not being present. Not being that bigger, louder, more impacting person I look at others who are and can't help but feel envy towards.
But it's not until a friend pointed this out to me, that I felt it really ring true.
I never need to apologise for being who I am… and for the journey that I am on.
And nor do you!
I have to question what I am really doing here. Am I here to be this figurehead of an imaginary person I have built up in my mind or to be who I am, just as I am, right here, right now?
When faced with these moments of doubt, I bring myself back to my core purpose with this blog, and that is to be of service to you through sharing my journey. I am here to serve you. Just you. Even if that you is just ONE of you. Everything else is just ego-talk and it's just holding me back from actually being ME in my entirety. This person that I am, is a work in progress. I am on this journey just as you are. Maybe I'm two steps ahead, maybe I'm two steps behind.
What matters is that I am one step ahead of where I was yesterday.
The same should be said for you. The only comparison you should be making is against your own journey and looking at where you have come from.
Because get this… these daily moments in life are fleeting. They are each 'once offs'. Never to be repeated again. 
Each is unique and brings with it its own set of lessons to learn from. So for me right now, as much as it pains me, while I may not be learning the ins and outs of building an urban farm, or growing better tomatoes, or being the big hotshot of the Permaculture world who's going to save the planet (that's my ego speaking there – we best not pay attention to that), I am learning other, equally as valuable life skills that I honestly believe, will be fundamental to the life that awaits me next year and the year after that and the years following those (more on that later). And I get to see this freaking amazing, beautiful world in the process. For that I am grateful. Through the interactions with locals, fellow travelers, and inspiring mentors, I am learning compassion, patience, adaptability, how to be an effective listener, how to engage with people from all walks of life, and most importantly, how to express gratitude for this life and all that comes with it. I am observing how this world interacts in a way I would never have taken the time to do back home. I can say this because I know myself. Or I should say, I am becoming better at knowing myself.
Do not underestimate the lessons in YOUR daily life, regardless of where you are at this moment in time.
Acknowledge the fact that you are a work in progress and you are on the path to greater things. You don't need to be envious of what you do not yet have. Because who's to say that won't be your reality in time to come? It's a matter of what you are doing NOW to work towards it, if you truly want it.
While I am still trying to seek out and share gems of wisdom with you along the way, the little nuggets that will help make your life so much more easier to live sustainbly (and yes, I wrote a WHOLE BOOK ON THIS STUFF), I have felt torn because my personal life has gotten in the way. You see, when I set out on this journey of blogging and sharing my story, I wanted to hold myself accountable to remaining present in my physical reality and soaking up that experience in its entirety (and losing sight of who I really am or hiding behind an online persona). Whether I'm travelling or not – that's beside the point. It just so happens to be I am travelling now and the host of challenges that come with that just takes a different form.
The Urban Ecolife was created as a means to share my journey to a more sustainable life while I was living smack-bang in the middle of a city. The 'city part' being the physical reality of my time at that moment in time. The intangible aspects of what makes up a sustainable lifestyle goes so much deeper though and something I've only just begun to really scratch the surface of. This stuff is what makes up the precious ecosystem in the soil of your soul. Which is where a lot of my focus has shifted to of late. I've become less wrapped up in 'looking' like I'm playing the part, to actually 'feeling and being' the part. You get the difference?
But the two cannot exist on their own. Or not for long anyway. They interplay with each other. For long term, sustained changed to occur in you, and on this planet, they need to exist harmoniously. So in order for me to practically apply these hard skills, I need to also understand the reason why and equip myself with these softer skills. I'm not here to say one needs to come before the other, but in my experience, the action led me to asking these questions of myself, which led me to where I am now, honing in on these softer skills. I think the loop will close again where the two intersect as I work through it all more and remain conscious to these decisions. Afterall, I love close-looped systems. But patience has never been my strong point. Those who know me best can attest to this….
I hold this blog near and dear to my heart regardless of my current lack of presence. I've been challenged on so many levels this year to remain present and accountable to my responsibility as a co-inhabitant on this planet and stepping into my greater calling. So rest assure, my priority has been, and always will be, to be of service to this planet and its inhabitants (you!). The form that it takes is, however, slowly taking shape in ways I never would have imagined some years back. Hallelujah we can't predict the future!! I say this because quite frankly, I probably would have turned and ran from the future that now awaits me. Because it's going to be hard. It's going to grueling. These things worth fighting for in our life generally are.
And it's going to test me on how dedicated I am to this cause.
But this little blog has been THE most important thing to me because without it, I'd not be on the path to purpose that I now find myself on. It's held me accountable to who I am and what I am doing here on Planet Earth. It provided me an outlet, a platform, a community to connect with and exchange ideas. Without it, I wouldn't be the human I am today who I believe, is on a path to do even greater things. I can feel it in my fingers… I can feel it in my toes….
So I will have a big announcement coming your way in the weeks to come. BIG life changes await me in 2016 and I so want you to be here with me to share in them.
What BIG changes are you working towards in your life right now?

PAID ENDORSEMENT DISCLOSURE: In order for me to support my blogging activities, I may receive monetary compensation or other types of remuneration for my endorsement, recommendation, testimonial and/or link to any products or services from this blog. Thank you for your support!