{This is a guest post from Vivica Menegaz who blogs over at The Nourished Caveman}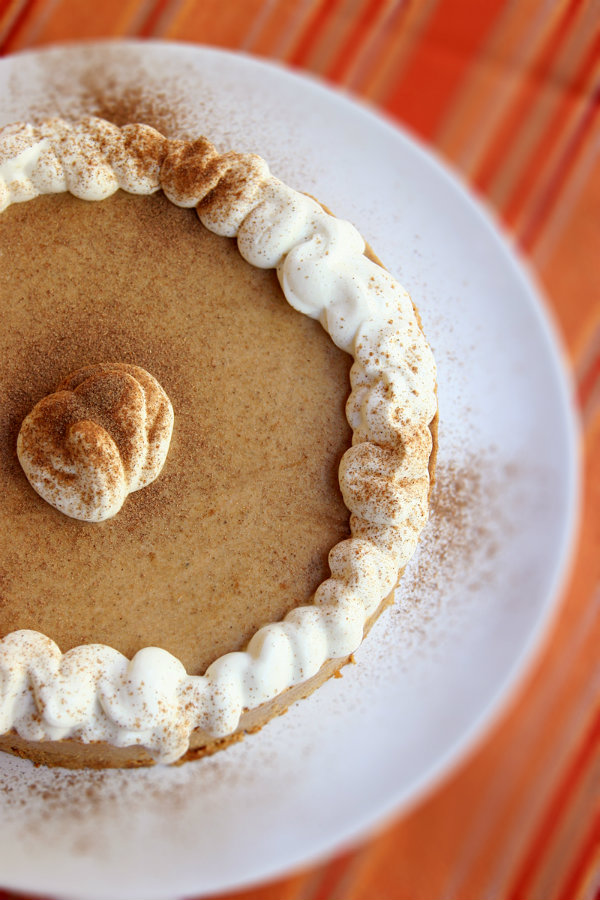 It is no secret that I am a savory person much more than sweet! I would rather eat a cottage pie 10 times more than any sweet pie.  But once in a while it is nice to have dessert, especially when it's a celebration and you just had a really good meal with good friends, and you are sitting at the table having great conversations and a glass of prosecco <–you can tell she's Italian! (Commentary by me, Emily)
Thanksgiving is approaching fast and with it the kickoff to the whole holiday season. I will be invited to several festive parties and as I do not eat sugar or grains, the only way to eat dessert is to bring my own.
So I decided to 'paleofy' a classic recipe: The Pumpkin Chiffon Mousse. To tell you the truth, it is not the easiest or fastest recipe. It's a bit laborious and it really pays to have the right tools. I do not own a hand mixer, so I whipped my coconut cream and egg whites by hand! I surely gained a bit of muscle but not recommend that you do the same. Another required tool is a springform, and make sure to get the good one because the first one I bought sprung open on me all by itself as I was pouring in the mousse. Not fun!
Once the small details are taken care of the process is really not that difficult. I only use one cup of sugar in my recipe because I usually do  not use sugar at all, but you might have to increase to 1.5 cups for a sweeter taste. I also did not add sugar to the whipped coconut cream for the decoration, but maybe  a packet of stevia and some vanilla extract would have helped make it more dessert-y!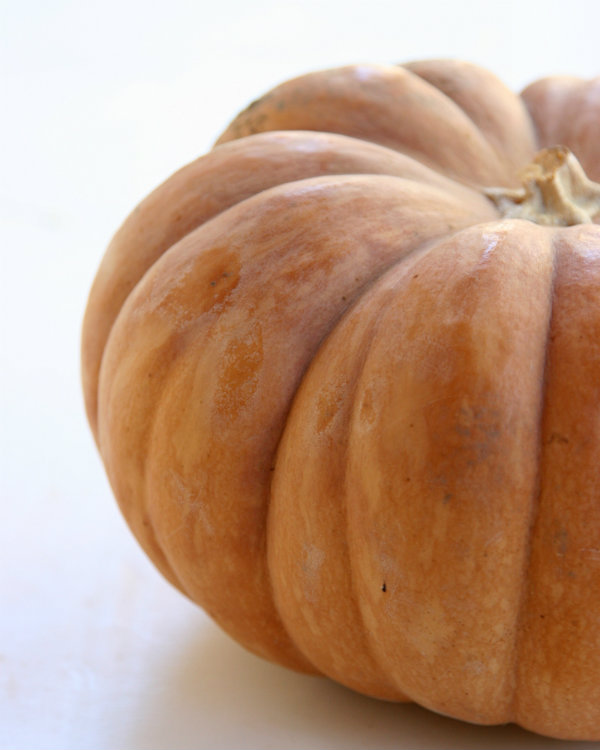 As for the choice of the right pumpkin, I used a Muscade De Provence I bought at the Farmers Market but it was a bit too watery, and I had to squeeze it well before incorporating it into the recipe! Next time I will use a Kabocha, which is my favorite winter squash and has a nice silky texture.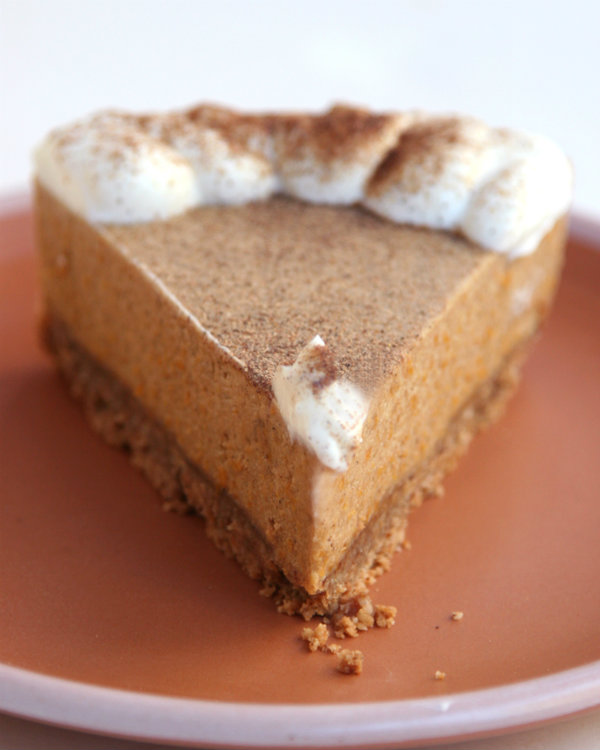 In the end I was quite impressed with how the Pumpkin Chiffon Mousse came out! It is very much like a pumpkin pie but much lighter and fluffier, and easier to digest. I brought it to a pre-Thanksgiving party and it was a big hit. Be sure to comment below and let me know how you go! Enjoy!
Ingredients
THE CRUST
10 oz cashew meal
1/2 stick (1/4 cup) unsalted butter, melted and cooled
1 tablespoon chai masala spice
1 large organic egg
THE FILLING
3 1/2 teaspoons unflavored gelatin
1/8 cup liquid vanilla
1/8 cup coconut water
6 large eggs, separated
1 cup coconut sugar
3 teaspoon chai masala spice
2 1/4 cups solid-packed baked pumpkin
1/2 teaspoon sea salt
1 1/2 cups chilled heavy coconut cream
GARNISH
Whipped coconut cream and a dusting of chai masala powder
Instructions
The day before, chill one can of coconut cream in the refrigerator.
To make the crust, first preheat oven to 350°F
Stir together cashew meal, melted butter, egg and spice in a food processor, and mix together until it balls up like dough, then press onto bottom of buttered springform pan.
Bake in middle of oven until edge is golden brown, about 8 minutes, paying attention that it does not burn.
Now place a bowl in the refrigerator, so it is cold to whip the coconut cream.
To make the filling, beat together yolks and coconut sugar with an electric mixer at high-speed until thick and pale, 3 to 5 minutes.
Reduce speed to moderate and mix in pumpkin, spices, and salt.
Transfer pumpkin mixture to a 4-quart heavy saucepan and cook over moderate heat, stirring constantly, until it registers160°F on an instant-read thermometer, about 5/6 minutes.
Remove pan from heat.
Now mix gelatin with the vanilla extract and coconut water in a small bowl and immediately add to the egg mixture, stirring until dissolved.
Transfer to a large metal bowl set in a larger bowl of ice and cold water and cool, stirring occasionally, until it reaches a smooth but thicker consistency, about 10 minutes.
Beat egg whites with cleaned beaters at high-speed until frothy, until whites hold stiff, glossy peaks.
Fold into pumpkin mixture gently but thoroughly.
Take the chilled can of coconut cream, turn it upside down and open it. Pour out any water that might have formed. Now scoop the cream in to the chilled bowl and whip with the hand mixer, then fold into pumpkin mixture gently but thoroughly.
Pour filling into springform pan, smoothing top, and chill, uncovered, 1 hour. Cover and chill until set, at least 3 hours.
Before taking out of the pan run a thin knife around edge and remove side.
Decorate with more whipped coconut cream.
Notes
Author Bio
Hi! I am Vivica. I am a bit of a jack of all trades. I'm a Certified Technician in Whole Food Nutrition, a cook, a blogger, a photographer, an advocate for sustainability,  a wife and a mother to many pets! I was born and raised in Italy and my first years really shaped my passion for food. You can read more about me on my blog: The Nourished Caveman

PAID ENDORSEMENT DISCLOSURE: In order for me to support my blogging activities, I may receive monetary compensation or other types of remuneration for my endorsement, recommendation, testimonial and/or link to any products or services from this blog. Thank you for your support!