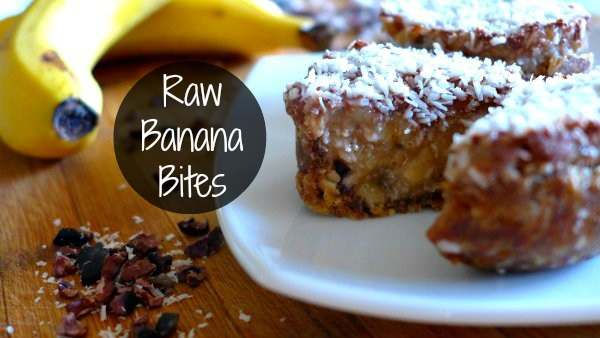 When I made these, temperatures were sky-rocketing to a ridiculous and sweltering  44°C in Australia. I needed a refreshing snack and I needed it pronto! Hence these bad little boys came into existence. I was craving banana and since I ditched the whole refined sugar thing quite some time back, was seeking a naturally sweetened option. Can't go wrong with dates! So these bite size morsels did just the trick. 
Did I mention that this recipe was included in the Naturally Sweet Treats Ebook which is on sale now! Check it out here.
The three layers consist of a date and walnut raw 'crust' whilst the filling is basically just a combination of all my favourite things. Lastly, the coconut oil and cacao topping is just a little bit of decadence to sweeten the deal. Beware, this is banana we are talking about so it will go gooey if left out so I froze mine which was perfect for this freaking humid heat we've been battling down here! Who's denying global warming now, huh?
Oh, and have you noticed? My photography skills are hopefully improving. I got a swanky new camera the other week for these glorious travels that I'm about to embark on. It's nothing super suave but it does the trick… more than just does the trick actually. My satisfaction with this little beauty that I decided on is indeed all sparkling rainbows and gold stars. Not only does it take amazing photos, it is stylish and lightweight too. I was after something compact as I've lugged a DSLR around before and it's no fun. Sure, the photos are great but unless you're a hardcore photographer, it just adds too much weight to the backpack for long term travel. Plus, I broke my last one when, as the klutz I am, dropped it! This time round I'm shredding back to the bare essentials. So I am a very excited lass indeed! Fingers crossed I don't do something silly and drop it in llama poo or get it stolen by a mischievous monkey in the Amazon!
I can get a little trigger happy, so expect many wondrous (and probably highly obnoxious) travel snaps to come your way. You have been warned.
Ingredients
RAW CRUST
10 Dates (soaked in hot water)
1/2 cups walnuts
2 drops Vanilla Extract
FILLING
2 ripe bananas
1/2 tsp Vanilla Extract
1/4 cup Shredded Coconut
3 tbsp Cacao Nibs
1/2 tsp Cinnamon
TOPPING
1/2 tsp Cacao Powder
1 tbsp Coconut Oil
1 tsp warm date water (from soaked dates)
Shredded Coconut
Instructions
Soak the Dates in just enough hot water to cover for 10 minutes.
Pulse the walnuts in a food processor.
Add the soaked dates (not the water) and vanilla.
Mix until you get a smooth consistency.
Mold into little cups in a miniature muffin tin.
For the filling mash the banana and then add the cacao nibs, coconut, vanilla and cinnamon.
Divide this into the muffin tin.
For the topping, take 1 tsp of the warm date water and add to a bowl with the cacao powder.
Add the Coconut oil and mix well before topping the banana mixture and sprinkling some coconut on top.
Set aside in the freezer to chill for at least half and hour.
Serve cold or allow to soften a little at room temperature.
Notes
Beware, they will go soft and gooey if left out too long!
/raw-banana-bites-gluten-free-paleo-raw-vegan-naturally-sweetened/

PAID ENDORSEMENT DISCLOSURE: In order for me to support my blogging activities, I may receive monetary compensation or other types of remuneration for my endorsement, recommendation, testimonial and/or link to any products or services from this blog. Thank you for your support!