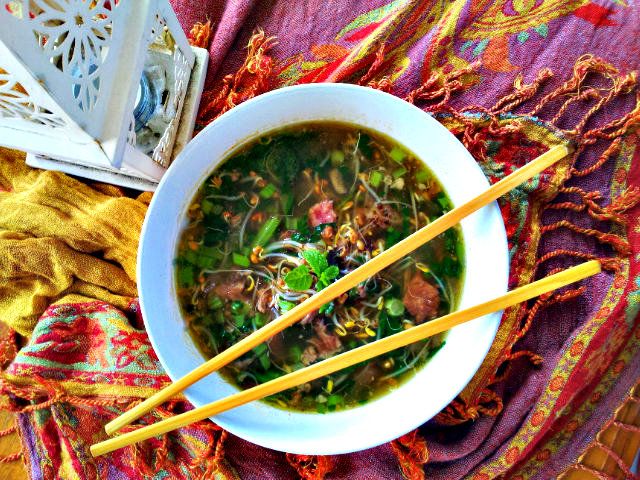 So I'm just going to go off on a little travel brag for moment. Feel free to block your ears (mwahaha.. you still have your eyes so you have to read this).
I was in Vietnam travelling with some friends around 2 years ago. Actually, it was Christmas time. What a coincidence! Despite being chased around scary, dark streets in the early hours of the morning on a cold rainy night as dogs howled in the background whilst being chased by a scooter gang (true story), it was a country that has provided me some of the craziest stories thus far.
When I look back, and whilst some of my mates still whimper at night from some of our experiences, I can't help but laugh. The people have an incredible history. The cities are crazy hectic but in an organised chaos kind of way. The natural landscapes such as seen in Halong Bay are breathtaking, and the food… oh yes, the food is UP there. My favourite being Pho; a hearty bone broth with tender meat strips, fresh herbs and butt loads of bean sprouts. You have me sold. It's traditionally served with rice noodles over there but I wanted to recreate it without the noodles to suit the Paleo crowd (and since I have the pleasure of only feeding myself right now, I can do what the heck I want). I haven't called it a Pho because I'd hate to lead  you down the path into believing I can actually cook traditional Vietnamese cuisine, hence the title of an 'Asian Beef Soup.' It's basically my cop out. You can't hold me liable. Ha!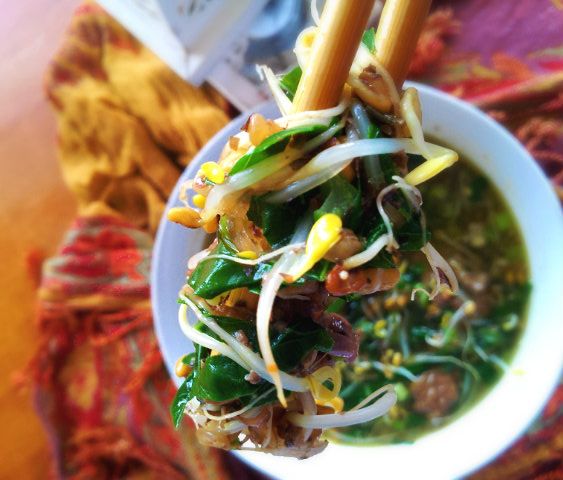 I used my beef bone broth recipe for the base. Feel free to use whatever you have in your fridge or in your freezer because if you're like me, you always have some on hand. If not, you better get started on the recipe then because you won't be eating this soup for at least another 24 hours if you want a deep flavorsome soup!
Oh, what was that? You want to see some travel photos from my time in Vietnam. I thought you'd never ask.  By the way, I'm the one all tuckered out sleeping in a little ball. I'm weird. I know .(Yes, we were wearing Santa hats. It was Christmas time, isn't that what people do?)

Ingredients
2 litres of Beef Bone Broth (see my recipe here)
500 grams of slow cooked beef (I used leftovers from the bone broth)
1 piece of fresh Ginger (around 4cm long)
1 Tbsp Chinese Five Spice
2 Shallot stalks
2 cups of Asian Greens (I used Choy Sum)
2 cups of Bean sprouts
Lime Wedges
Fresh Thai Basil, Mint or Coriander to serve
Salt & Pepper to taste
Instructions
Slice the ginger in half, and using the side of the knife, gently bang it against the counter to crush it but leaves it intact.
Simmer the beef broth with the ginger and Chinese five spice powder for around 30 mins.
Take the ginger pieces out.
Add the cooked beef, shallots, asian greens and bean sprouts and cook for 3-5 minutes.
Serve with a garnish of select herbs like thai basil, coriander and mint and some freshly squeezed lime juice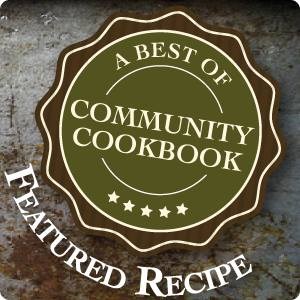 PAID ENDORSEMENT DISCLOSURE: In order for me to support my blogging activities, I may receive monetary compensation or other types of remuneration for my endorsement, recommendation, testimonial and/or link to any products or services from this blog. Thank you for your support!