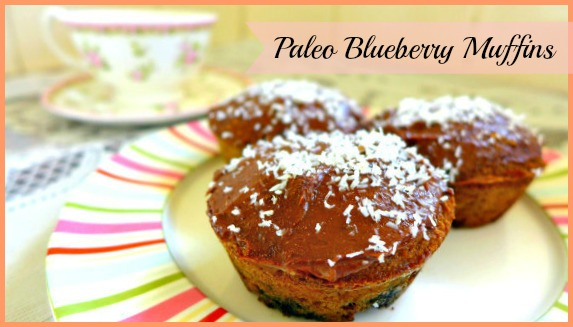 These Paleo Blueberry Muffins are lightly spiced with all things nice… aka mixed spice. Why? For much the same reason why I added the cacao nibs. It just makes them so much more special and delicious. Isn't that reason enough?
Afterall, I like special things, a little twist here and there and unexpected endings. Speaking of which, the other night I watched the Matt Damon film "Promised Land". It's all about fracking and a big global giant trying to step all over a small town in 'whoop whoop', USA. Oh it had a good twist!! I won't ruin it for you but you MUST watch it. Gee whizzicals I love Matt Damon.
Fracking is bad business folks. If you haven't heard already, it has the potential to leech toxic chemicals into our water systems without people even knowing about it. Naturally, the companies who control these procedures deny such claims but the evidence is out there. I've got my own research to do on the matter as it's happening right here on my own doorstep, or close enough to it anyway. So expect that this isn't the last you'll hear about this fracked up situation.
So fracking aside (for now) and back to these muffins. They're not so much muffins as they are cupcakes. Can you even frost muffins? Well, too bad, I just did. Rebel. I love frosting so I'm happy to slap it on anything and everything. Oh, and since I discovered  Paleo Fondue with her Birthday Cake with Chocolate Frosting recipe, I just had to give that frosting a go because it looks so darn amazing (with my little twist of course). You can't stop me now! I'm a wild menace with this frosting!! Don't be shocked if you find it lacing my steak. Too far? Well I did say everything…
Other than that, I'm happy to report the actual muffin itself isn't overly sweet – which I prefer. Just enough sweet and spice to make it nice. That is all.
Spiced Paleo Blueberry Muffins with Cacao Nibs
Ingredients
1/2 cup Coconut Flour
1/2 tsp Baking Soda
1/2 cup Coconut Sugar
1 tsp Mixed Spice
1/4 tsp Salt I love this one
4 Eggs
1/3 cup Butter
1/4 Coconut Cream
1 tsp Vanilla
1/3 cup Cacao Nibs
1/2 cup Blueberries (fresh or frozen)
FROSTING (optional)
1/4 stick of Butter
1/4 cup of Maple Syrup (or fine coconut sugar)
3 tsp Arrowroot Flour
1 tbsp Cacao Powder [https://amzn.to/1bRsUdR]
Instructions
Allow the butter to soften to room temperature.
Mix the dry ingredients in a large bowl.
Fold the butter, vanilla, coconut cream and eggs using an electric beater or a wooden spoon.
When combined, gently stir through the cacao nibs and blueberries.
Grease a muffin tin and line with muffin patties or use a silicon tray.
Bake on 180°C (360°F) for 20-25 minutes or until they start to go golden.
Take out when they are done and allow to cool completely before frosting.
FROSTING
Whip the butter with a beater
Add the maple syrup and arrowroot
Add the cacao powder and combine
Smooth onto cooled cookies to serve
Can decorate with shredded coconut

PAID ENDORSEMENT DISCLOSURE: In order for me to support my blogging activities, I may receive monetary compensation or other types of remuneration for my endorsement, recommendation, testimonial and/or link to any products or services from this blog. Thank you for your support!