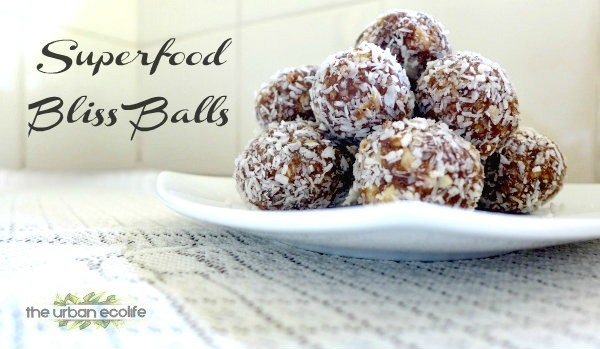 These little gems are bursting with superfood goodness that will really hit the sweet spot and will leave you feeling satisfied and oh so zen.
Super-what?! Yeah, superfoods. Are you not on the superfood bandwagon yet? Have you been living under a rock? Well, looks like you're missing out on your chance for endless vibrant energy, immortality and exuding the very radiance of the sun. I'm not falling for that one. I love the idea of a superfood but I reckon they just taste darn awesome.
All jokes aside, these balls of bliss are full of healthy, organic and natural goodies and are great for a post workout refuel or a little energy pick me up.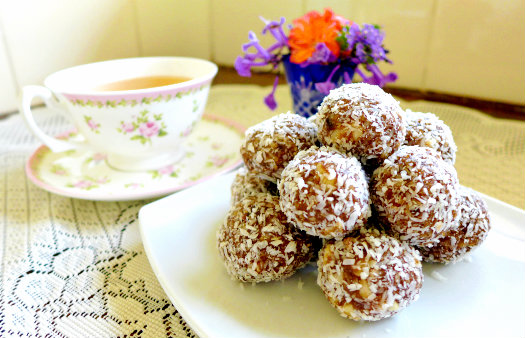 Why I love these ingredients

Cacao Nibs – This is how nature intended chocolate to be before humans adulterated it with nasty additives and sugars. So skip the manufactured stuff and head straight to the natural raw and organic source and you'll be sure to reap the greatest rewards. Cacao nibs are high in antioxidants, magnesium, calcium, iron, copper, zinc and potassium. Thanks to a substance called, theobromine which is a central nervous system stimulant, they are a great energy booster. Cacao is also a mood lifter as it contains the amino acid tryptophan which is essential in the production of serotonin – the feel good hormone. You mean to say, I can eat pure chocolate in all it's beauty and deliciousness? Yes my children, so go forth and indulge!
Goji Berries – These little guys are also bursting with antioxidants that make them an excellent addition to your cancer prevention lunchbox. They are loaded with Vitamin C, calcium, zinc, selenium and many other important trace minerals. So much bang for your buck from such a small and innocent looking little red berry!
Medjool Dates – High in fibre, dates help to ward off constipation and other intestinal issues. The nicotinic content helps to keep the growth of pathological organisms in check, allowing the good bacteria to thrive and flourish. Other nutrients they contain include calcium, sulfur, iron, potassium, phosphorous, manganese, copper and magnesium.
Chia Seeds – Another superfood that's high in antioxidants (sick of antioxidants yet?) which help fight off free radicals and aging. They are also high in Omega-3s which is a heart healthy fat that helps to reduce inflammation. Chia seeds are also high in soluble fibre and contain good levels of calcium, iron, manganese and phosphorous.
Macadamia Nuts – There's a running pattern here. You guessed it – more antioxidants and omega 3s. They also full of several minerals, vitamin A, thiamine, riboflavin and niacin. I have yet to meet someone who doesn't fall head over heels for their buttery taste and texture.
Raw Honey – Thank the bees for this natural sweetener! Who needs refined sugars when you can use honey and get so much more nutritionally? It's abundant in B Vitamins and Vitamin C and also contains beneficial enzymes and acts as a natural anti-bacterial & anti-fungal agent.
Maca Powder – Made from Andean yams that are known for their ability to help regulate hormones.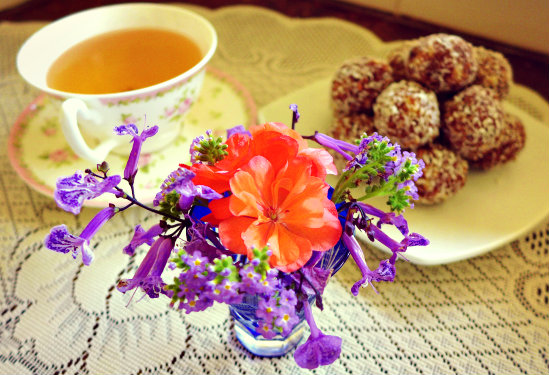 Superfood Bliss Balls (Raw Vegan, Paleo, Dairy & Gluten-Free)
Ingredients
Instructions
Combine dates, chia seeds, cocao powder, vanilla essence and honey in a food processor and whiz up until you get a fairly smooth consistency.
Stir in the goji berries, macadamia nuts and cacao nibs.
You're now left with a brown gooey mess of goodness!
With clean washed hands, start forming into little balls in your palms and rolling in the shredded coconut.
They should be little palm sized balls which you can then put aside on a clean plate. Continue until you have no mixture left.
Enjoy with a cup of freshly brewed tea and most importantly, eat with gusto!
Notes
Feel free to experiment with different nuts and add-ins.
If you don't have any of the ingredients, then that's ok! Use what you have on hand. Some may be hard to get a hold of where you live.
Goji berries can be subbed for other dried fruit like cranberries and blueberries.

PAID ENDORSEMENT DISCLOSURE: In order for me to support my blogging activities, I may receive monetary compensation or other types of remuneration for my endorsement, recommendation, testimonial and/or link to any products or services from this blog. Thank you for your support!