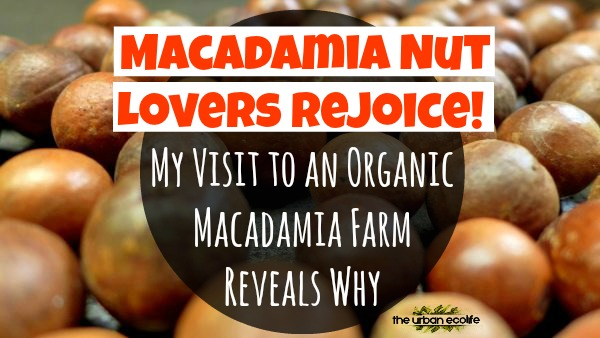 I never intended this blog to become a travel blog and it won't, for the most part anyway. So don't fret. My intention has, and will continue to be for the foreseeable future, to share with you The Urban Ecolife. My life right now though, being on the road and exploring the wonderful diversity of the world, is something I cannot NOT share with you. The incredible glimpses into other ways of life that reflect the ecolife I want to embody myself is too good of an experience to pass up on sharing. So share I will and gladly so. Buckle up. Today, we venture to the delectable organic macadamia nut farm located on the outskirts of Antigua, Guatemala.
Having stayed nearly a week in Antigua, Guatemala, I feel the abundance of activities to be enjoyed in the area should not exclude a trip out to The Valhalla Organic Macadamia Farm. These guys here are doing amazing things for the indigenous people and so yes, you can indulge in their delicious products guilt-free because you're supporting their work.
They say on their website:
"The Valhalla Project is a Guatemala based organization that seeks to reverse global warming, assist indigenous people in developing self-sustaining agriculture, and educate the public about the environment. We accomplish this mission by planting trees. The Valhalla project introduces ungrafted Macadamia seedlings to indigenous people as an alternative to slash and burn agriculture, which contributes to global warming."
My time here most certainly feels more complete having taken just a couple hours out of one morning to bus out there and yes, my tummy most certainly felt all the more cheerier afterwards. Oh sweet Macadamias, how I love thee. I've never met a person who doesn't enjoy their creamy white goodness. As an Australian, I'm nuts about our native nuts and so yes, you can thank us a million times over for sharing this treat with you all. Considering this though, I guilty admit, it's a little strange that it takes me a trip to Guatemala to actually learn about the humble macadamia… oh what a little bit of adventure does for the curiosity.
How To Get There
Catching a chicken bus from Antigua towards San Miguel Dueñas only sets you back 4 quetzales one way. Just tell the bus driver you want to go to "Las Macadamias" and he'll know what you're talking about. The ride was pleasant, passing through some pretty countryside and a quaint town. It took us about 30 minutes thanks to the erratic traffic conditions that particular day (not unusual for chicken buses mind you). The bus dropped us off at the entrance and we proceeded to walk up the driveway that, surprise surprise, was a dense mulch of macadamia nut shells.
Lining the path to the main shop and cafe area are an abundance of Macadamia Trees. Oh how glorious. Yes, indeed, I had arrived in nut heaven.
We were greeted by a lovely Guatemalan lady who gave us a quick free 15 minute run down of the farm and 'nut operations'. It was fascinating to see the machine that was invented to separate the green shell from the inner brown shell. An old tyre, some steel and a battery was all that was need to do the job.
The second part of the processing was a 'nut sorter' that was simple and yet clearly, effective in separating the nuts into 5 different sizes which would determine their purpose later on. Following this, the nuts are left out to dry for upwards of 30 days. Solar dried of course.
About The Valhalla Macadamia Farm
The Valhalla farm is 100% Organic and their sustainable approach does not involve grafting or genetic modification, so rather, it encourages biodiversity naturally. They are determined to help the local community by providing indigenous people with a sustainable form of income. Macadamia trees are some of the most productive nut trees out there, producing fruit all year round and thereby allowing growers the opportunity to capitalize on a variety of diverse product offerings that can be made from the simple macadamia nut. Think food, baking flour, skincare products, soaps and oils. This makes for a far more sustainable and profitable alternative compared to the region's dependence on the volatile coffee industry which I've spoken about recently in this post.
Here are some more interesting facts about the Macadamia Nut Tree that perked my little ears with intrigue.
They are significant carbon dioxide fixers, drawing in an average of 30 pounds per year.

Macadamia nuts possess the most beneficial omega 3-6 ratio of all nuts, making it a nutrient dense source of Omega-3 fatty acids, vitamins, minerals and protein; a great healthy addition to the local diet.

The Macadamia nut tree produces nuts for over 150 years. Talk about long term sustainability!

These trees are multi-purpose, being useful for not only their nuts and carbon sequestering, but they also require regular pruning so this wood can be used for mulch or firewood.
The best part of the tour? Enjoying the free samples of the nuts, the chocolate coated varieties and their skincare products *grin*. Seriously, this stuff is amazing.
But wait! There's more!!
The final treat. You can't leave without enjoying a meal at the beautiful outdoor cafe where you can treat yourself to their famous macadamia flour pancakes or a fruit platter smothered in their creamy macadamia nut butter and homemade blueberry jam. Decadence (if ever you needed a visual and taste-tantilizing description for the word).
For more information about the macadamia nut farm, click here to visit their website.
So What Does This Mean For You?
Firstly, if you live in an appropriate area that supports macadamia nut trees (lucky me… my home is home to the macadamia tree), they might be a worthwhile investment to your land. Think of all the macadamia nut butter you can make yourself!!
Secondly, be conscious of who you buy your macadamia nuts from. They are one of the more expensive nuts on the market, but buying organic and from reputable growers makes more of difference than meets the eye as my visit to Valharra has proven.
Are you a macadamia nut fanatic like me? Come on now… fess up.


PAID ENDORSEMENT DISCLOSURE: In order for me to support my blogging activities, I may receive monetary compensation or other types of remuneration for my endorsement, recommendation, testimonial and/or link to any products or services from this blog. Thank you for your support!