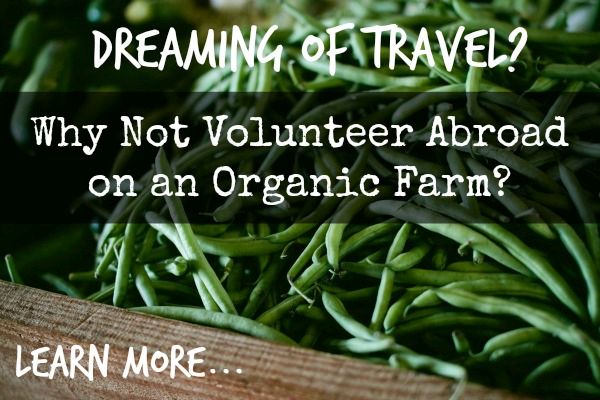 Imagine waking up to sound of toucans in the lush green mountains of Costa Rica. A layer of mist hovering over the jungle as first sunlight gently wakes you from your slumber.
You spend your morning doing manual labor; digging, planting, catching fish, harvesting food, or whatever tasks need your attention that day. It's sweaty and hard work but on the inside, it feels good to move; to use your body and feel energized to do so. Rewarded with a hearty lunch of local cuisine and an afternoon to swing in the hammock, read, do yoga, swim in the waterfalls, wander through the jungle or just sit and be present.
It's sounds kind of luxurious in some sense. This was my typical day volunteering abroad on a farm in Costa Rica last year and now one of a few experiences I've had doing such. The thought of hard labor might scare some away. There's no denying it's back-breaking work at times but it's a strength and perseverance that gets built up with time. I know there are those of you out there though who crave that sort of movement and opportunity to participate in the circle of life and connect with nature. How can we not? We're deprived of this bitter sweet pleasure that's intrinsic to our existence when cooped up in the city. It's no wonder there's a growing appeal to volunteer abroad on farms.
While come may criticize that this short term mentality as being a Western phenomena – having the luxury to come in, do some work and nick off before the going gets tough and continue on with their travels – I see it in a different light. Small scale, local organic farms are operating in a tough climate and without a steady stream of incoming volunteers, they'd find it hard to keep afloat. The volunteers may be people who are from more affluent places in the world, but they are willing to volunteer for each of their own reasons. I think it's a win-win situation. I've heard of a few situations from hosts and fellow travelers that their hospitality or work was taken advantage of, but they are still the minority of cases.
You're length of stay depends on your agreement with the host. It could be anywhere from a few days to a few months. I've even met a retired man who travels and volunteers full time and he loves it! It gives him somewhere to stay with minimal cost and keeps him active. He stayed with a host for a whole year once in exchange for daily labor. Few would dare live a life like that but for him and his hosts, it works.
If you are travelling long term, vacationing or looking for a sea-change, I think volunteering in this way is an amazing opportunity to gain some clarity on life, do something with your hands in the meantime, and contribute to someone else's life in a good way. The cross-culture experience, opportunity to practice the local language, and learn new skills is second to none.
If you've ever entertained the idea of throwing in the city life and retreating to the countryside, I implore you to try volunteering some time on a farm first (whether you volunteer abroad or locally). It's easy for city folk (myself included once upon a time) to romanticize the 'simple' farming life. There's nothing simple about it and when you've got your legs ankle deep scooping up cow crap, certainly nothing romantic about it. This is work that requires dedication, commitment, and a hell of a lot of hard yakka. Early mornings and long days are the norm.
These experiences will certainly make some throw in the towel and retreat back to their city slumber and thank the high heavens for their home delivered produce. But it will also open their eyes to the reality of where their food comes from and hopefully, they can spread that message back home.
These are some of my favorite sites that I've used in the past to scope out opportunities.
Woof woof whaaat? It stands for World Wide Opportunities on Organic Farms. It's one of the original sites connecting willing volunteers to help on small scale organic farms across the globe. Some of the remote corners of Central America, to outback Australia, Asia and Africa. Downtown, uptown, all around USA. Europe. There is no corner of the world left untouched by this incredible exchange. A per country fee applies to gain access to their available opportunities, so it suits if your travels are specific to one region.
Helpx has one sign-up fee across the globe. Most of the travel I've done in the past has been decentralized and spread out cross countries and continents so HelpX has made more sense for me. The kind of volunteer work available is also more varied, so if farm work isn't your cup of tea, you might find something else that is.
This site is more diverse in its host offerings. For example, you could be working at a bed and breakfast, doing nanny work or caring for animals. They have a single sign up free valid for 2 years.
Specifically catered for those interested in participating in Permaculture projects around the world. There's no sign up fee and some projects aren't up to date but you'll have access to some contact details to at least send an email.
Notes on Volunteering
– Understand what you are getting into. No one wants to be around a princess or prince who is scared to get their fingernails dirty.
– Have an agreement in place with your host so you both have a clear understanding what is expected for both parties.
– Some places may require you to pay a small daily fee to help chip in for food or other expenses. Sure, this may seem unfair as you're supposedly working for food and a bed. Understand that on a local budget, it's not cheap to feed big, hungry foreigners. They still have bills to pay, mouths to feed and facilities to clean. Chances are, what you are getting is still a significant discount on what you would pay for a hotel or hostel bed.
– Be open to a new experience and be prepared to forgo some luxuries. Many places do with very little compared to the lifestyle you may be use to.
– This is not a free-loading opportunity. Do your part.
– Your hosts are opening their homes to you. Respect their property and their privacy.
– Participate and get to know your hosts. They are people too with some darn interesting stories!
– Don't be scared to offer help outside your normal agreed working hours. You might learn something new.
– I've seen places were some projects started by previous volunteers are left incomplete because no one knows what's to be done next. Offer to finish a project if you have the skills to do so or if you started something, leave clear instructions for the next volunteer as to what needs to be done to finish it.
– Be open to learning new skills. Listen. Learn. Apply what you've been taught.
– Have fun!
Have you tried this sort of volunteering work? What others sites have you used?

PAID ENDORSEMENT DISCLOSURE: In order for me to support my blogging activities, I may receive monetary compensation or other types of remuneration for my endorsement, recommendation, testimonial and/or link to any products or services from this blog. Thank you for your support!