I'm officially obsessed with eggs for breakfast. I never use to be. There was this little myth floating around that they were bad for your cholesteral levels. Why would a healthy young 20-something year old have to worry about her cholesteral anyway?! Then I discovered how I had been mislead about how darn good they are for you!
I was also concerned with the Queensland government's new rulings for 'Free-range' standards. Earlier this year, they lifted the number of hens allowed per hectare from 1500 to 10,000! Gobsmacked, I now make sure to buy my eggs from local farmers markets where I know the hens are raised in an environment that meets a set of standards that are in line with my beliefs. Now, I can enjoy my eggs and eat my omelette too!
Caramelized Onion, Mushroom, Kale and Quark Omelette
Ingredients
2 Organic, Free range eggs
1/2 red onion
4 button mushrooms
1 cup chopped kale
3 tablespoons quark*
Parsley
1 tablespoon Balsamic Vinegar
Salt & pepper to taste
Coconut Oil
Process
To caramelized the onions, place in a hot pan with coconut oil and fry for a few minutes. Then add the balsamic vinegar. Add the mushrooms and fry until cooked.
Add the kale to the fried mixture, cook, then remove from the pan and put aside.
Heat some coconut oil to grease the pan, and add 2 whisked eggs with salt and pepper.
Lightly shake the pan to airate the eggs then allow the egg mixture to settle.
Allow to cook for 30 seconds and then add the quark to one half of the omelette.
Add back the vegetable mixture and chopped parlsey.
Flip the other half over once the eggs have cooked enough to allow you to do so.
Remove from pan and serve. I love to add sauerkraut or some avocado!

*What is Quark?
It's a European style cottage cheese (without rennet) that has a smooth and soft texture with a tangy taste.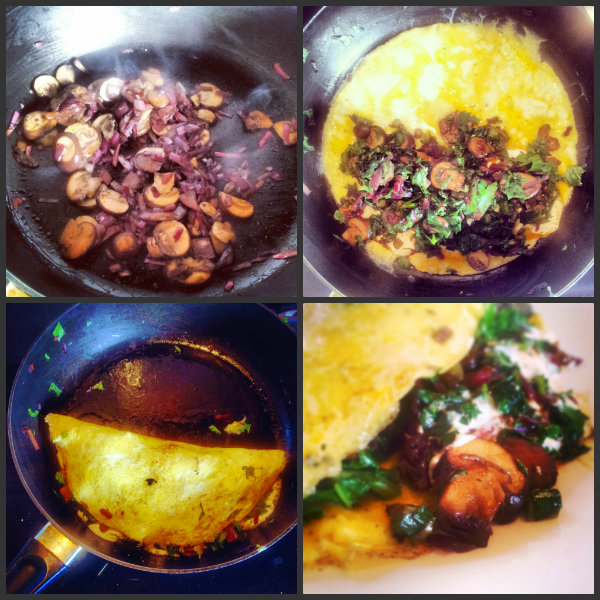 PAID ENDORSEMENT DISCLOSURE: In order for me to support my blogging activities, I may receive monetary compensation or other types of remuneration for my endorsement, recommendation, testimonial and/or link to any products or services from this blog. Thank you for your support!