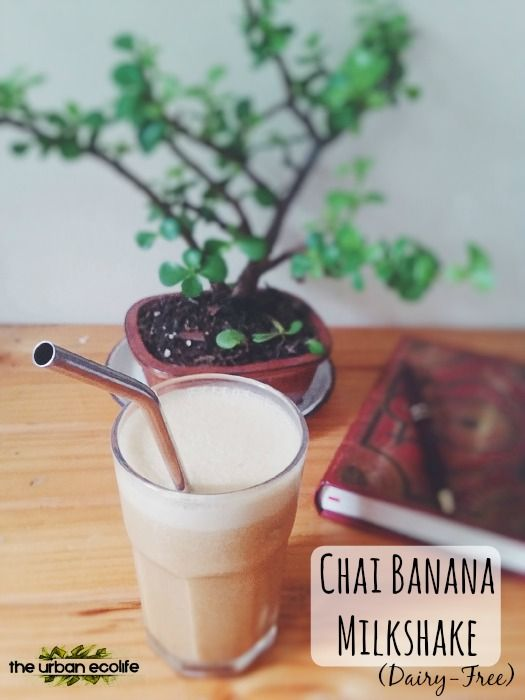 I know those of you trapped in the Northern-sphere are probably just starting to recover from being bunked up in your houses escaping the blizzards. All I can think of is how amazing snow would be right now. Snowmen, snow cones, snow fights, snow angels, snow mobiles, snow, snow, snow! I'm one deprived snow child but I'm sure there's something I'm clearly missing.
Take a moment to think of those of us residing on the other half of the planet sweltering it out under the skin-scorching rays of the sun and running for cover from the raging tropical cyclones. And all I can think about is how to protect my poor little lettuce from wilting. So I have come to accept, Mother Nature has her ways. Now I can go back to dabbing my chest sweat with a wet rag.
To chill the nerves, I whipped up this Chai Banana Milkshake using my absolutely favourite tea of all time; Crimson Chai Rooibos. Of course, if you don't have that one, don't panic. Any old chai tea will do. I have a thing with chai and banana if you haven't noticed from this past cake recipe I made. The final result for this milkshake? Well, it brought a boy dog to the yard for me alright.
Ingredients
1 serving of Crimson Chai Rooibos Tea (this is the one I LOVE)
OR Just plain Chai Tea (like this one)
1/2 cup of Boiled filtered water
1/2 cup Coconut Milk
1/2 frozen Banana (can use 1 whole for thicker consistency)
1/4 tsp Cinnamon
Optional honey to sweeten
Ice cubes
Instructions
Steep the serving of tea in the 1/2 cup of boiled water for 3-5 minutes. If it's loose leaf tea, use a tea strainer to do so.
Remove the tea and place a couple of ice cubes in to help cool down. Or if you're super organised, you can prepare in advance and allow to cool and place in the fridge for later use.
In a blender, pour the 1/2 cup of tea, the coconut milk, the banana and cinnamon.
Blend up and add more ice cubes to finish. Served icy cold.
Now patiently wait for all the boys to come to your yard.
/my-chai-banana-milkshake-brings-all-the-dairy-free-boys-to-the-yard/
PAID ENDORSEMENT DISCLOSURE: In order for me to support my blogging activities, I may receive monetary compensation or other types of remuneration for my endorsement, recommendation, testimonial and/or link to any products or services from this blog. Thank you for your support!