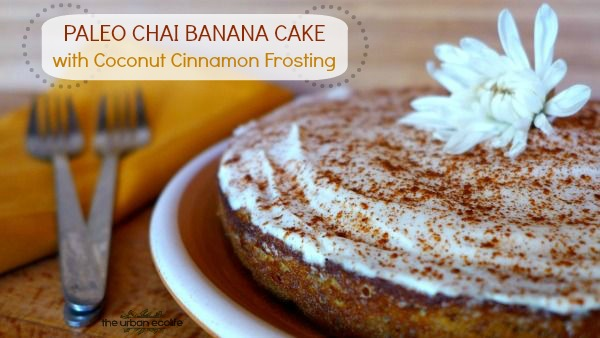 An impromptu visit from a dear old friend left me in quite the quandary. With her arrival set for the 2 hour mark, it was only at this point in time that I remembered (thanks to Facebook) her looming birthday. Seriously, what kind of friend was I? A forgetful one at that. So here I was. In a panicky rush, trying to muster up the brainpower and creative prowess to come up with a birthday cake recipe. An easy task? THINK AGAIN. I had limited ingredients and ducking down the supermarket was a half hour drive. Not happening. It was like Iron Chef, except the amateur was pitted against only what her creativity and pantry limited her too.
Let's see. Bananas. Check. Almond Flour. Check. Coconut Cream. Check. And obviously, the other small pantry staples you'll find in the ingredient list. This could work. An online check in with some fellow bloggers for a final touch of inspiration, and I was off. 
The final product?
This Paleo Banana Cake, with a touch of Chai spice and a Coconut Cinnamon Frosting. That evening, after a hearty dinner, many glasses of wine and a lively exchange of stories, I serenaded Steph with her cake. Oh the surprise. Pat on the back to me. It went down a treat. Several hours later when the clock had ticked well past midnight and only after a few yawns, we realised that our beds were calling us.
Please note, this recipe creates around 4 slices, so simply double for a larger party.
Paleo Chai Banana Cake with Cinnamon Frosting
Ingredients
Instructions
Pre-heat the overn to 350°F (180°C)
Mix the almond flour, chai mix and coconut sugar in a bowl.
In a seperate bowl, whisk the coconut cream, eggs, vanilla, coconut oil and mashed banana.
Mix the two bowls together in one.
Grease a small cake tin or ramekin.
Pour the mixture in and bake in the oven for around 20-25 mins or until cooked.
Lick the bowl of leftover mixture (this is ALWAYS a must).
Meanwhile, whip the frosting ingredients together (I just used an immersion blender). Set aside in the fridge to cool.
Take the cake out of the oven and allow to cool completely before covering with the frosting.
It's ready to serve!
If you liked this, please feel free to 'Plus One' on Google+ below and share!

PAID ENDORSEMENT DISCLOSURE: In order for me to support my blogging activities, I may receive monetary compensation or other types of remuneration for my endorsement, recommendation, testimonial and/or link to any products or services from this blog. Thank you for your support!