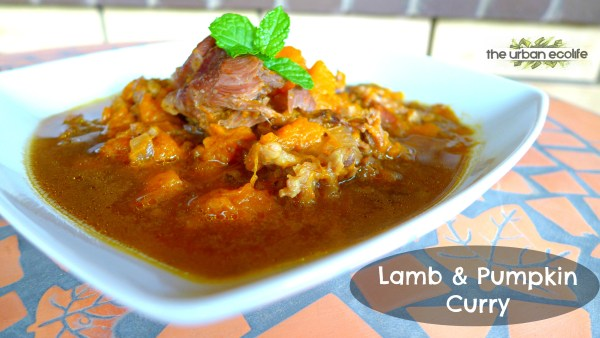 Have I mentioned lately that I know some pretty awesome foodie bloggers? Probably. I have no shame in shouting this from the rooftops because quite frankly, they rock. Who doesn't like frothing over yummy photos of mouthwatering edible stuff… aka food p*rn. Hence, you've probably noticed that amongst all the sustainable living and green propaganda, I do feature a lot of real food/paleo/primal recipes on my Facebook and Google+ pages, and even dabble in a few myself.
Why might you ask? Besides the fact that I love to hoard recipes and dream of eating them all in my sleep (maybe that's why I have a drooling problem), I love to share the masterpieces of those who have been doing this far longer than I have so you needn't freak out about not knowing where to start or what to do when adopting a more healthy and sustainable way of eating.
So these pals of mine and I, we've busted our brains and are bringing together another series of classy, delicious and of course, healthy, recipes. If you didn't see the last bunch of awesomeness we put together, you can check out the collection here. This time round though, we're bringing to the table – *drum roll* – Healthy Slow Cooker Recipes!! Can I hear a WHOOP WHOOP?!
Have I also told you lately how much I love my slow cooker? Probably. I have no shame in saying it again…and again. Not only do I find it much more economical as it allows me to buy cheaper cuts of meat and meat on the bone, but I find it more agreeable on the electricity bill. Not to mention the time saving. Switch it on and off you go. I'm all about simplifying life over here.
Have I also told you lately how much I love lamb… and pumpkin for that matter? And curry?! So into the slow cooker they all go. Like magic, 8 hours later I have a scrumptious curry ready to serve. Seriously, Gandalf would be gushing.
On this note, there really is some serious magic working in this curry too as per the testimonial from my Dad (one who suffers severe chronic pain and Dercum's disease). He claimed that the day after eating this curry, he felt the best he has in months! I'm not pulling your leg here. Curious by this startling observation, being the little detective that I am, I went scrounging around the interwebs.
I've known for some time now that Chinese and Ayurvedic medicine preaches about the health benefits of turmeric. More specifically, the medicinal component – Curcumin, which is often extracted for it's anti-inflammatory benefits. This in itself was not news to me. I wanted to know, however, what it was about the curry that was apparently so much more effective. You see, my Dad had been supplementing with curcumin for quite some time but disappointingly, with little effect so far. My findings brought about some exciting news indeed!
Research suggests that together, turmeric and black pepper, when taken with fat and HEATED, works more effectively together than supplementing in their isolated states. Essentially, turmeric by itself "cannot be utilised because of poor bioavailability due to its rapid metabolism in the liver and intestinal wall" (Source) and the fact that it's not water soluble but fat soluble. That's why you might find singular supplementation to be ineffective.  Our observations on this most certainly prove this to be true. The turmeric, pepper and coconut milk heated together, as per the traditional curries of centuries old, work to make the curcumin bioavailable for the body.
This is exciting news for my Dad and we'll continue to explore this further. I'm not saying it's some miraculous cure or anything, it has merely helped in alleviating some pain for him. Obviously, a more holistic approach is needed and I think he's slowly coming to terms in acknowledging this. For now, I'm just excited that we may have a convert in our midst people! May real food prevail!
NOW BACK TO THE RECIPE.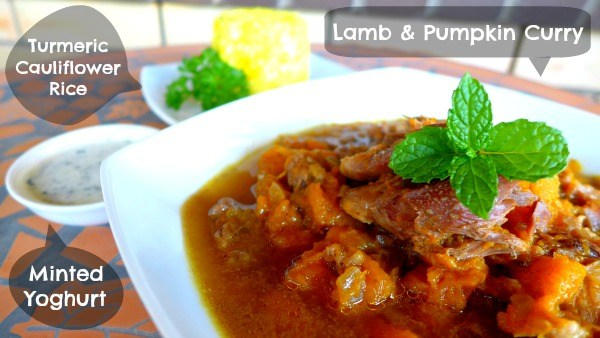 When I made this batch, I was a tad too generous with the water, so it turned out more like a stew, but I've adjusted the recipe so it won't be so. I served it up with the turmeric cauliflower rice and minted yoghurt and the taste testers, aka my family, loved it, especially having never tried cauliflower rice before. So it was a wild and adventurous ride at the dinner table that night.
Here are the quick and easy recipes for the side dishes. Scroll down further for the Slow Cooker Lamb and Pumpkin Curry recipe.
Minted Yoghurt
Mix 1/2 cup plain natural or Greek yoghurt with 1/2 cup (lightly packed) chopped mint. I used a mortar and pestle to extract the mint flavour. Squeeze 1/2 lemon and salt and pepper to taste.
Turmeric Cauliflower Rice
Grate half a head of cauliflower and fry in coconut oil, turmeric, salt and pepper until cooked.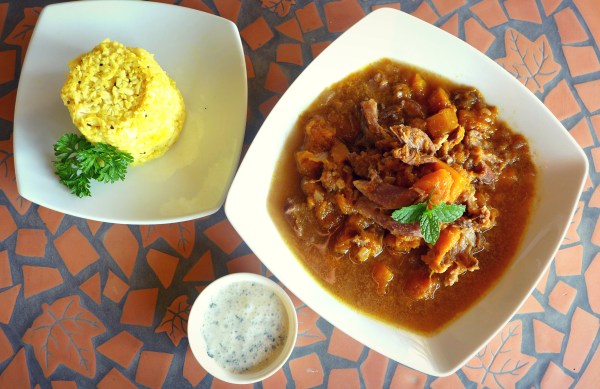 Slow Cooker Lamb and Pumpkin Curry
Ingredients
4 Lamb Shanks
500g Kent (Kabocha) Pumpkin (1 lbs)
1/2 cup chopped Dates (optional)
1 diced Onion
4 cloves diced Garlic
270g of Coconut Cream (I love this one)
4-6 cups of Filtered Water (depending on how thick/thin you want your curry)
3 Bay leaves
1 Tbsp Ground Ginger
1 Tsp Black Pepper
1 Tbsp Paprika
1 Tbsp Cumin
1 Tbsp Turmeric
1 Tsp Crushed Chilli
1 Tsp Cinnamon
Salt to taste
Instructions
Place the Onion, Garlic, Bay leaves, Spices, Coconut Milk, Water and Lamb Shanks into the slow cooker.
Allow to cook on low heat for 2 hours.
Add the pumpkin and dates and cook for another 6 hours on low heat or until the curry is thoroughly cooked.
By the 6th-8th hour, the meat should be falling off the bone.
If any meat is left on the bones, you can simply pick the bones and put the meat back in the curry or eat off the bone like a real caveman.
Remove the bay leaves and bones and serve with the yoghurt and cauliflower rice.
Notes
In my opinion, curries often taste even better after cooling down and storing in the fridge overnight, so leftovers are always a treat!
/slow-cooker-lamb-and-pumpkin-curry-minted-yoghurt-turmeric-cauliflower-rice/
If you liked this, please feel free to 'Plus One' on Google+ below and share!

PAID ENDORSEMENT DISCLOSURE: In order for me to support my blogging activities, I may receive monetary compensation or other types of remuneration for my endorsement, recommendation, testimonial and/or link to any products or services from this blog. Thank you for your support!